Artworks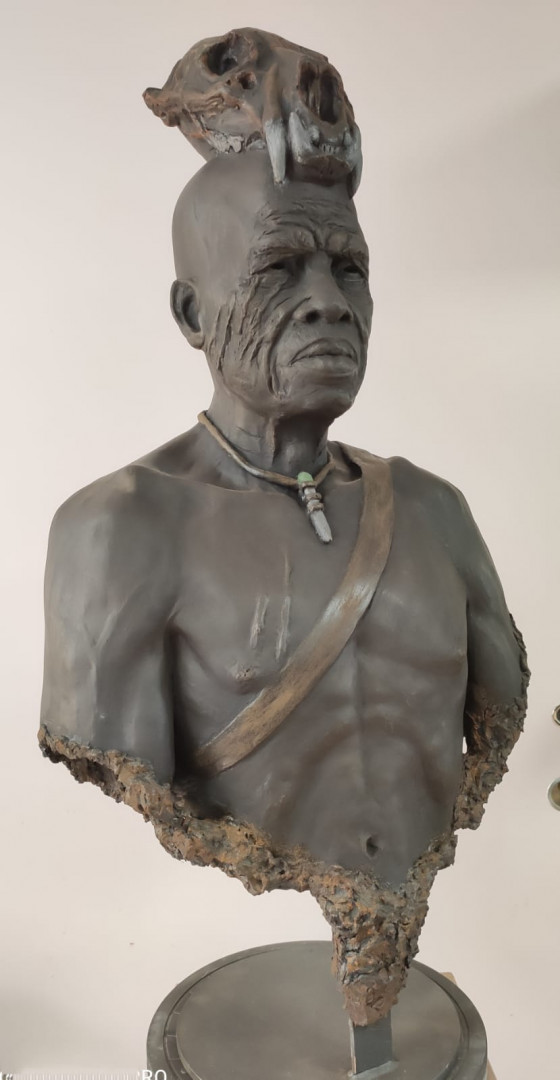 Guérisseur "version longue"
67x35x9 cm
acrylic resin
2021

Guérisseur "version longue"
67x35x9 cm
acrylic resin
2021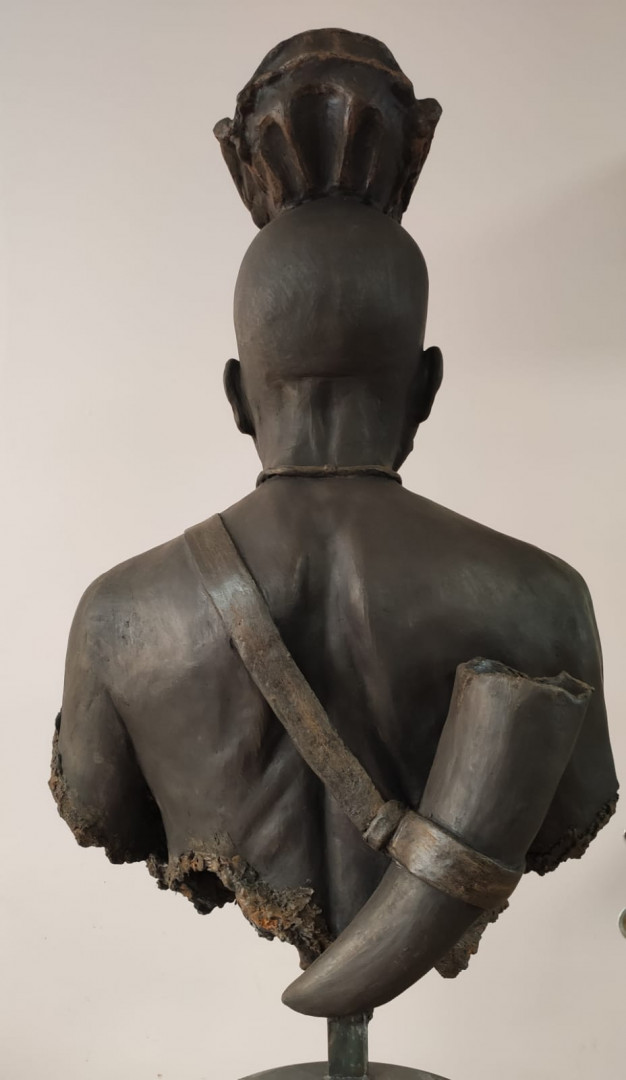 Guérisseur "version longue"
67x35x9 cm
acrylic resin
2021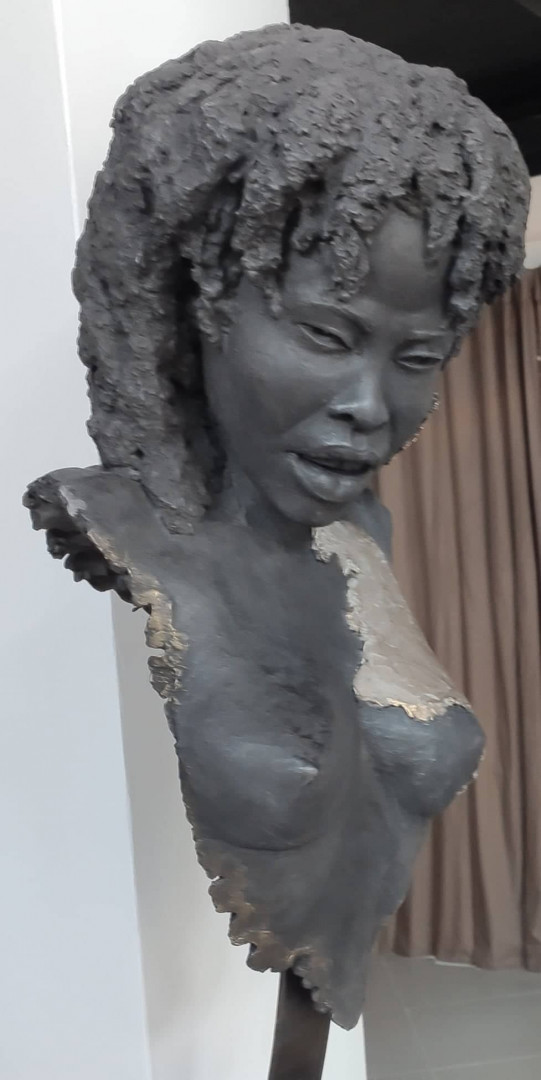 L'Or Noir
"L'OR NOIR", Bust in patinated acrylic resin, bronze resin, 2019, 60 cm, 1/20 signed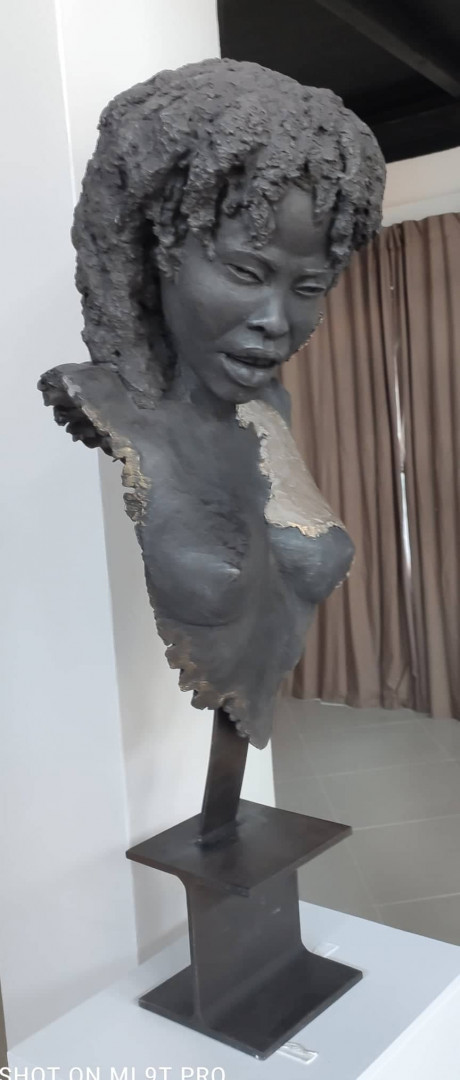 L'Or Noir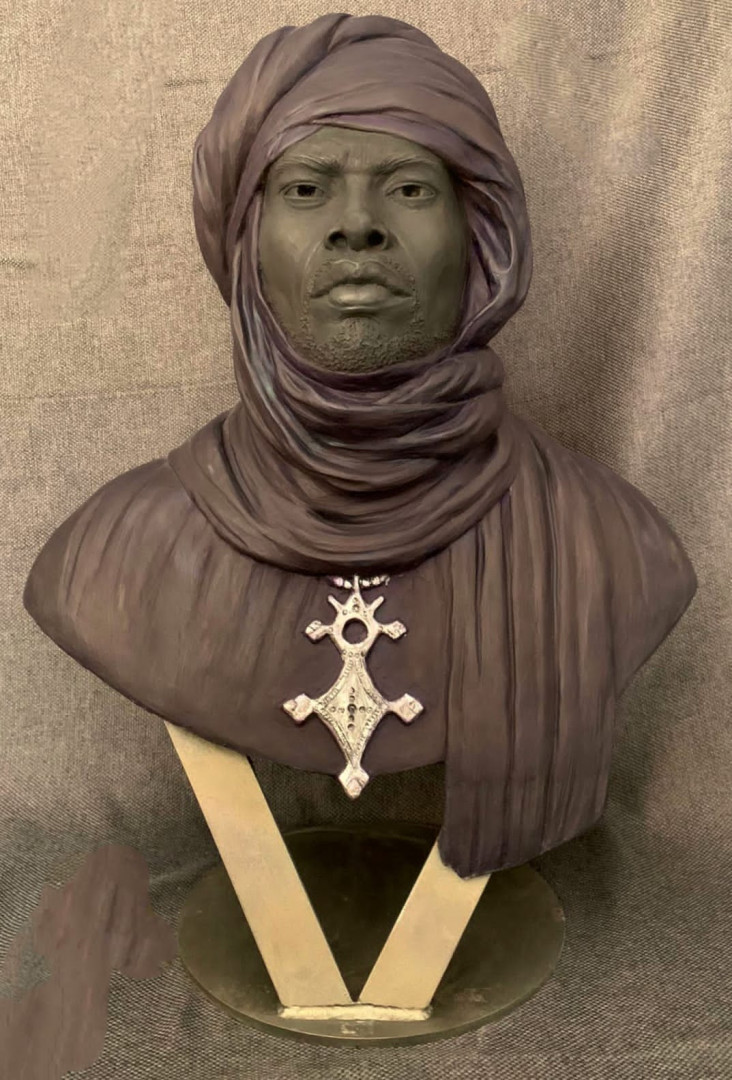 The nomad "long version"
acrylique resin , purple patina
( ancestral traditional fabric)
Sourthern cross and silver metal base.
68/52/30 cm
11 kg
2022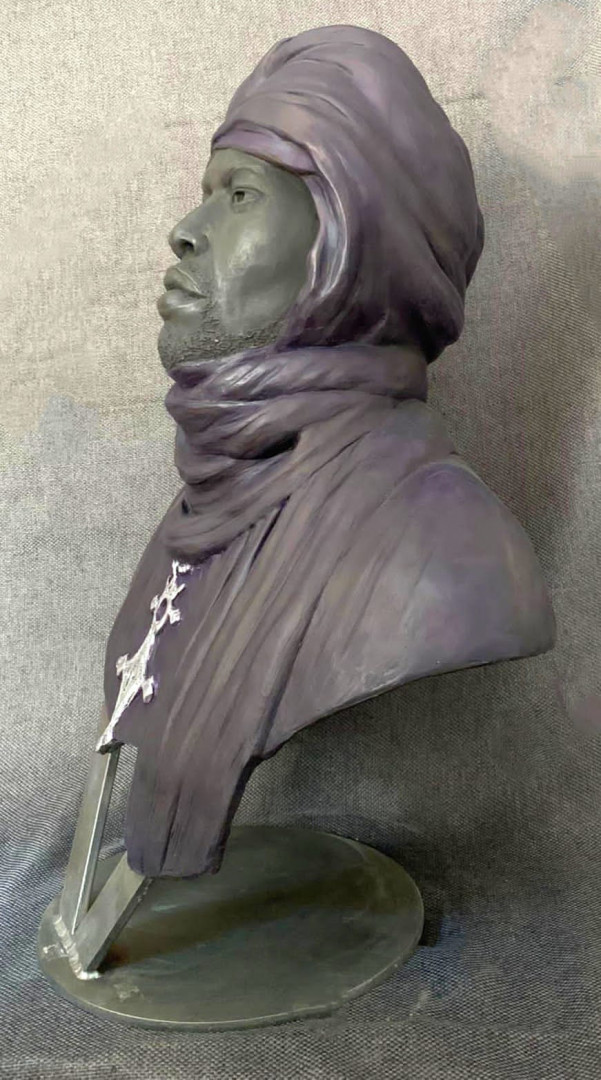 The nomad "long version"
acrylique resin , purple patina
( ancestral traditional fabric)
Sourthern cross and silver metal base.
68/52/30 cm
11 kg
2022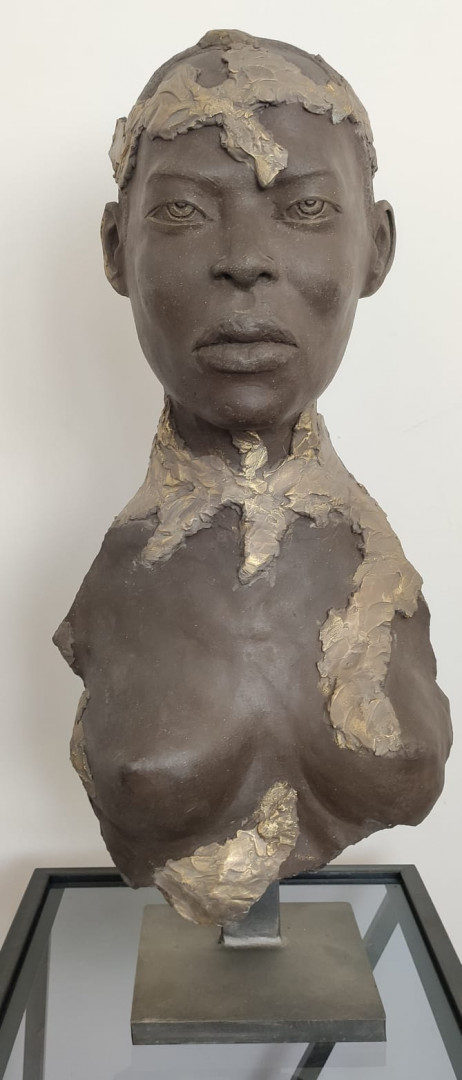 La guerrière
Terracotta and bronze resin
56x30x20 cm
2021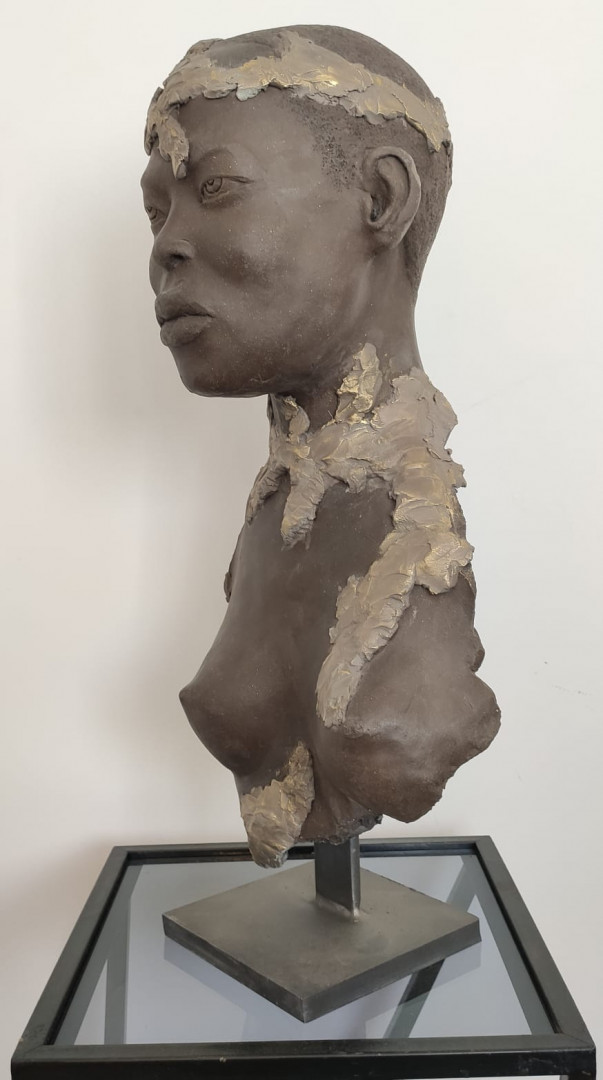 La guerrière
Tarracota and bronze resin
56x30x20 cm
2021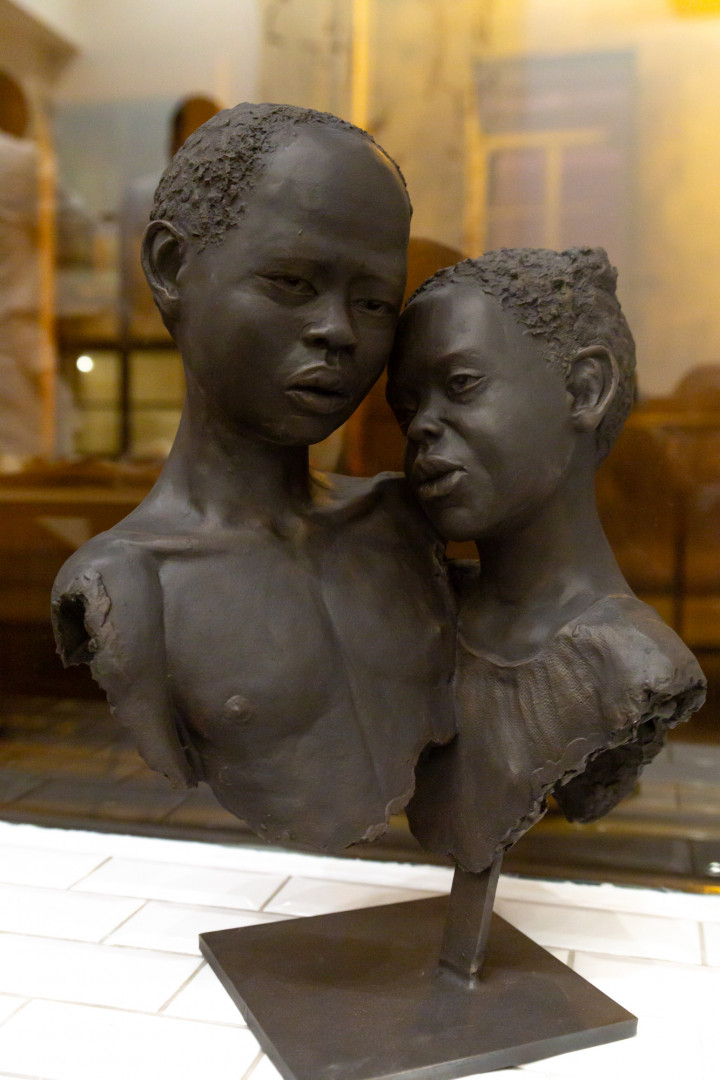 Jamais sans ma soeur
30x 40 cm
acrylic resin
2021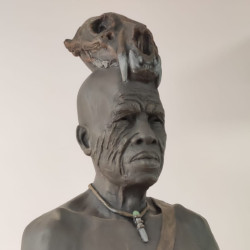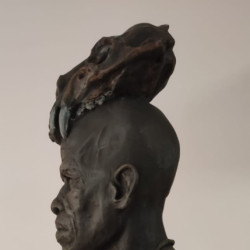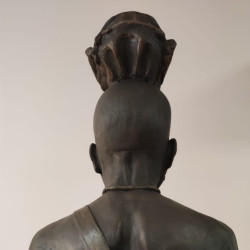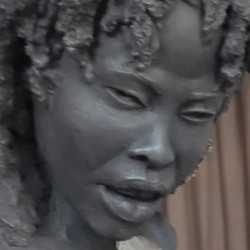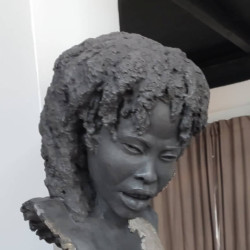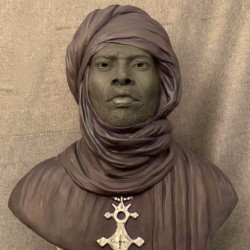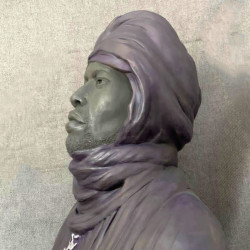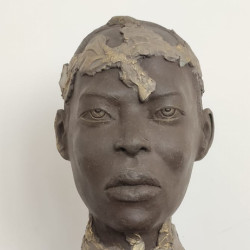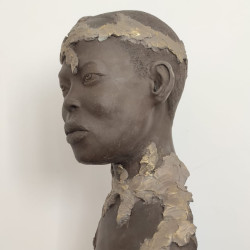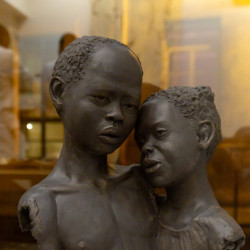 Biography
Sandrine Plante is a figurative sculptor (she insists a lot on the masculine nature of this profession, explaining that it is her masculine energy that creates). Born in the Puy de Dôme in 1974, Métis or Zoréole more precisely, that is to say born of a mother from Auvergne and a father from Reunion Island. She discovered the clay at the age of 8 (and remained self-taught for many years) and quickly decided to be an artist-encouraged by her parents. plastic arts, a faculty of art history she apprenticed in sculpture at a lodge in Rome Jean Chauchard, student of Paul Belmondo, a school of stonecutting and architecture in Volvic and sculpture courses in Italy at Gigi Guadagnucci's in Massa Carrare -grand master of marble. For her it was obvious that art allowed to express much more than a state of soul, that it could be used to militate, to tell, to defend causes. parallel she wanted to transmit realism to a period when we have no read from classical school in France, so as not to lose this exceptional profession - and this in the old way using anatomy boards - in order to understand the architecture of the human body (itself fascinated by bones and the incredible machine that is man). After having done a lot of research on the history of Reunion Island and its ancestors - and the discovery that she was descendant of slaves - she had the deep desire to devote her entire career to the history of 15th century slavery. century to the present day. She will say: "So it is with my creation which wants to be engaged like a cry for all the oppressed of yesterday and today ... My characters scale one or larger sometimes tell, through the earth, slavery ... this scourge which recurs as inexorably, affecting more than 30 million humans ... I address different themes: the village at the time of capture, separations, sales, trips on board slave traders, the bottom of the seas in homage to those who have passed overboard, the plantations ... I have chosen to create a traceability of life for some, of which we, descendants of slaves, do not have precise elements - so can be to fill this "void" in history. All born of clay (she works a black earth) they move in places of memory or exhibition most often in resin, less heavy, of different variations of shapes or patinas, produced in 20 signed and numbered copies, with the possibility of bronze casting on command. "Do not forget to hope not to reproduce", inform the younger generations, pay homage as faithfully as possible. I will not cease to express this cry, I who, as a woman in my time, in my countries have the possibility. »She is rewarded with sculpture prizes, sometimes exhibits in salons or places of exhibitions but her objective is more in places of memory, museums, week or memorial dates. She likes to gather around her vernissages: musicians , dancers, singers, storytellers, writers, performers. She does not hesitate to write to the presidents of the French Republics concerning the founding of Paris, deputies or any person having a link or an implication on this subject. Having a sculpture "The 3 brothers at the Villèle museum (in the Pointed Chapel) on Reunion Island, his first dream, a fortnight at the Slave Savannah in Martinique, Strange Fruit in the gardens of the town hall of Bordeaux , Exodus on the island of Gorée, she continues her journey. A traveling exhibition project in Africa from Dakar to Ouidah, then later in Mozambique where her ancestors came from. Projects still in Benin at the Great Place for transmit and exhibit, in England, in the United States where there is so much to tell, she says. She is one of those people who we could say mystical since her creation is made according to her dreams - she says that she connects to the ancestors - but fully accepts the idea that it is not really "real" She does not draw, does not make any model, but makes her dreams ripen even during the day and when it seems to her that she knows the story of her character, she launches out. Neither the quantity of earth nor the size of her pieces do not scare her, she throws herself headlong into these stories, each more painful than the next to pay homage, constantly pay homage. With her two photographers, the deputy Max Mathiasin several writers she is preparing a book which will be called " Vies volées "like each of his exhibitions.
Exhibitions
October 2020: guest of honor at the Terre et flammes fair in Chantepie April 2020; exhibition for the JEMA Puy de Dôme
December 2019: sculpture "Exodus" deposited on the Island of Gorée, Senegal installed soon in front of the slave house in the new building of documentations
2019 December 2: acquisition of a "Strange fruit" sculpture by the town hall of City of Bordeaux installed in the gardens of the town hall for the day international abolition of slavery.
May 2019: week of memory -exhibition for the collective from
May 10 to Montpellier in the house of international relations. -exhibition in the town hall of Bordeaux
May 2019: hairdressing salon Guerkan & Co Paris rue faubourg St Honoré
April 2019: creation of works for the Museum of the Slaves Savannah at the Martinique February 2019: Carrefour des arts exhibition, Puy de Dôme
2018 December 20: acquisition of the "3 brothers" by the Villèle de Île de la Reunion, installed in the pointed chapel during the 170 years of the abolition of slavery
2018 August exhibition Puy en Velay International Fair
October 2018: Exhibition Terres et Flamme Chantepie 35 2018 May: week of memory, exhibition for the collective of May 10 from Montpellier at the house of international relations April 2018, creation of several pieces on Caribbean Indians and acquisitions of sculptures on slavery by La Savane des slaves Island of Martinique
2017 April Exhibition carrefour des arts Chamalières 63 2017-2016 some exhibitions
2016 Carrefour des arts Chamalères Puy de Dôme exhibition
2014 to 2016 some exhibitions EDITING photos "Les 3frères" in the book On a volé mon frères, Editions Fauves PRICE 2018 Terres et Flamme fair 1st public prize 2018 Salon Puy en Velay 2nd prize sculpture category
2017 Carrefour des Arts 1st prize sculpture with "Yannaké'éna"
2016 Carrefour des Arts 1 st sculpture prize unanimously with the "3 brothers" TRAINING 1995: training courses with the Sculptor Gigi Guadagnucci Massa Carrare Italy 1995 School of stone cutting and architecture of Volvic Puy de Dôme
1994-1995 Apprenticeship in sculpture with Jean Chauchard, lodge in Rome pupil of Paul Belmondo 1993-1994 Faculty of History of Art
1992 Bac Plastic Arts Self-taught in sculpture since the age of 8 BACKGROUND / SKILLS Modeling workshop / realism course for 10 years adults Interventions with modeling schools for 8 years Earth and rammed earth construction projects with the Livradois Forez park Interventions at INSEP Paris with directors of sports federations during internships for several years at the rate of a half-day session per year English, Italian language base Pedagogue / Great adaptability to situations Brings together different arts during the openings in order to relate to the Theme of slavery PROJECTS Exhibit in places of memory in different countries (England, United States United, Africa, French Islands etc ...) Places of memory in France: Nantes, La Havre etc ... Traveling exhibition between DAKAR and OUIDAH in 2021-2022 of around twenty sculptures Intervention in the form of a course in Benin (project with the Grande Place)
Videos
https://www.instagram.com/p/CKFOHlMABfQ/
Press
https://la1ere.francetvinfo.fr/martinique/artistes-de-guadeloupe-martinique-et-reunion-exposent-au-portugal-908472.html?fbclid=IwAR25RSDtDkI5C8BEo2GD3VddwBrjXrMGHhJQrhZSw51aRruCkMO6J1lzrLI
Website