Personal Structures - Identities
11 May - 24 November 2019
Venice - Palazzo Mora & Giardino Della Marinaressa
PAVILION OF GUADELOUPE ISLANDS

Guadeloupean artists: Jean-Marc Hunt (FR), Joël Nankin (FR), François Piquet (FR)
Venue: Strada Nova, 3659, 30121 Venezia
Opening hours: Every day from 10am to 6pm except Tuesdays
Organized by the European Cultural Center
Coordination, representation of artists: Krystel Ann Art
Project supported by:
The Guadeloupe Region
The Ministry of Culture - The Guadeloupe Directorate of Cultural Affairs Department Council of Guadeloupe
Les Iles de Guadeloupe
Kouleurs Et Sens
Sponsored by Kareen Guiock
Curators: Marci Gaymu & Chrystelle Merabli


Krystel Ann Art and the Guadeloupe Region will coordinate and support the participation of three Guadeloupean artists selected for the exhibition "Personal Structures - Identities", at Palazzo Mora. The event organized by the European Cultural Center will take place as part of the Venice Biennale from 11 May to 24 November 2019.
The European Cultural Center (ECC) brings to life different places dedicated to European cultures around the world (Italy, the Netherlands, China, Russia, USA). Since 2011, with the support of the GAA Foundation, its partner in Italy, the ECC organizes in Venice exhibitions of contemporary art and architecture during the Biennale. The ECC provides selected artists with majestic spaces in three palaces and two public gardens in the heart of Venice. With free admission, these exhibitions welcome each year nearly 500,000 visitors.
The exhibition "PERSONAL STRUCTURES - Identities" will bring together for its 5th edition a group of six artists of different origins, selected by curator Marci Gaymu.
Three Guadeloupean artists - Jean-Marc Hunt, Joël Nankin, and François Piquet - will be exhibited alongside Soraya Abu Naba'a (Dominican Republic), Esteve Casanoves (Spain) and Mazeredo (Brazil).
Each artist will present an unpublished project from May 11 to November 24, 2019, on the second floor of Palazzo Mora and in the gardens of Marinaressa.
The works of the three Guadeloupean artists will be exhibited in a set of spaces called the "Pavilion of Guadeloupe Islands ", consisting of a 44m2 room inside the Palazzo Mora, and two open-air spaces in the Marinaressa Gardens.
In the same palace, the Pavillion of Mozambique, Seychelles and Kiribati Islands will also be organized as part of the official program of the Venice Biennale.
This is the first time that the Guadeloupe Islands will be represented at the heart of an international artistic event of this magnitude.
The French journalist Kareen Guiock, host at M6 channel and born of a guadeloupean father, will be the sponsor of this Guadeloupe Islands Pavilion.
"Traversée", introduction by Chrystelle Merabli, co-curator of the exibition
"Créer en pays isolé", introduction by Régine Cuzin, independent curator
INVITATION TO THE OPENING CEREMONY - 9 & 10 MAY 2019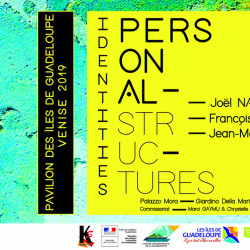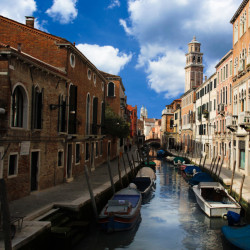 ---
Other projects