Creole Paradise,Nati la
01 - 31 July 2020
Guadeloupe
Créole Paradise,Nati la
Creole Paradise, or Nati in creole, is a vibrant exhibition by Antoine Nabajoth. Through his brushstrokes administered like the wands of a conductor, the artist endeavors to highlight and color the beauties of his native island Guadeloupe.
Antoine Nabajoth transmits the energy of Creole music and culture through his works. Whether it is the rhythms of Ka, zouk or even traditional dance, all its vibrations are expressed under the artist's brushes. The subjects of his paintings navigate between reality and imagination, such as the characters of the tales and songs of his island, where gaping wounds of history and joie de vivre get bored in an island paradise.
Visiting the Nati la exhibition is entering a complex and poetic universe. In the warm colors of tropical dawn and nature, subjects from the traditional collective imagination juxtapose, inviting visitors to create their dreamlike experience of Creole paradise.
Chrystelle Mérabli
link to the exhibition
https://artspaces.kunstmatrix.com/en/exhibition/1627727/paradis-cr%C3%A9ole-nati-la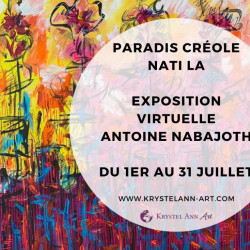 ---
Other projects