Artworks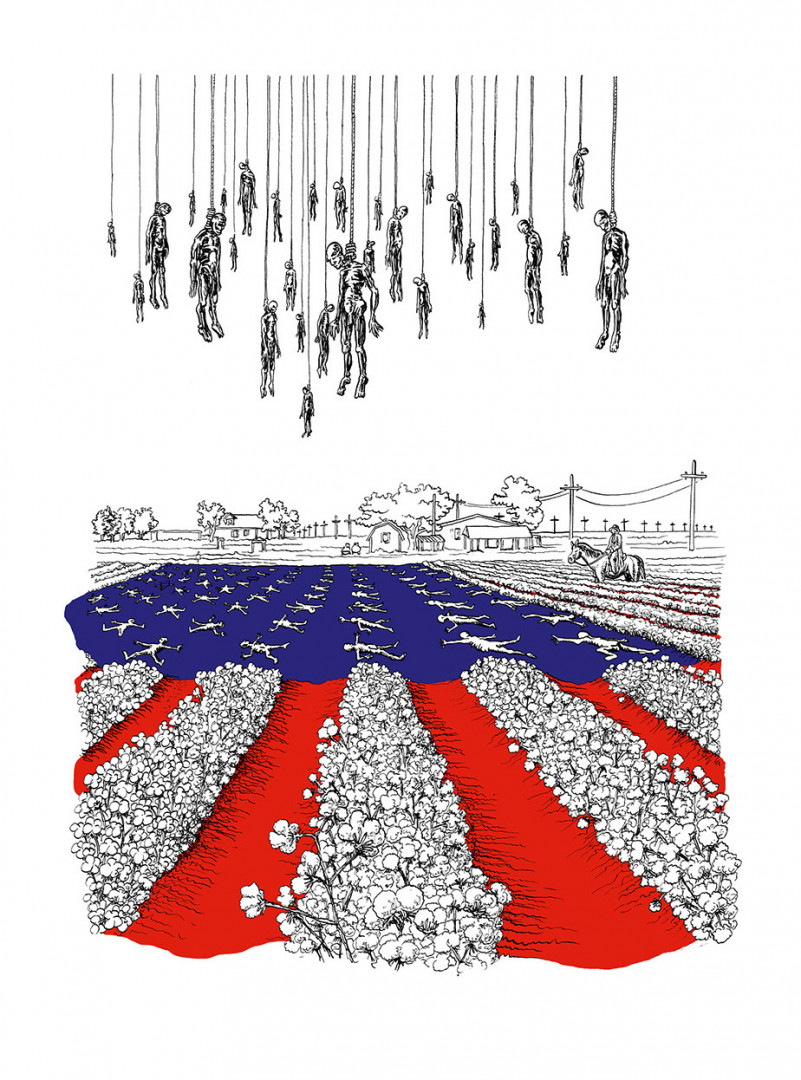 ONE DROP
Ink on paper 260g, 65x50cm,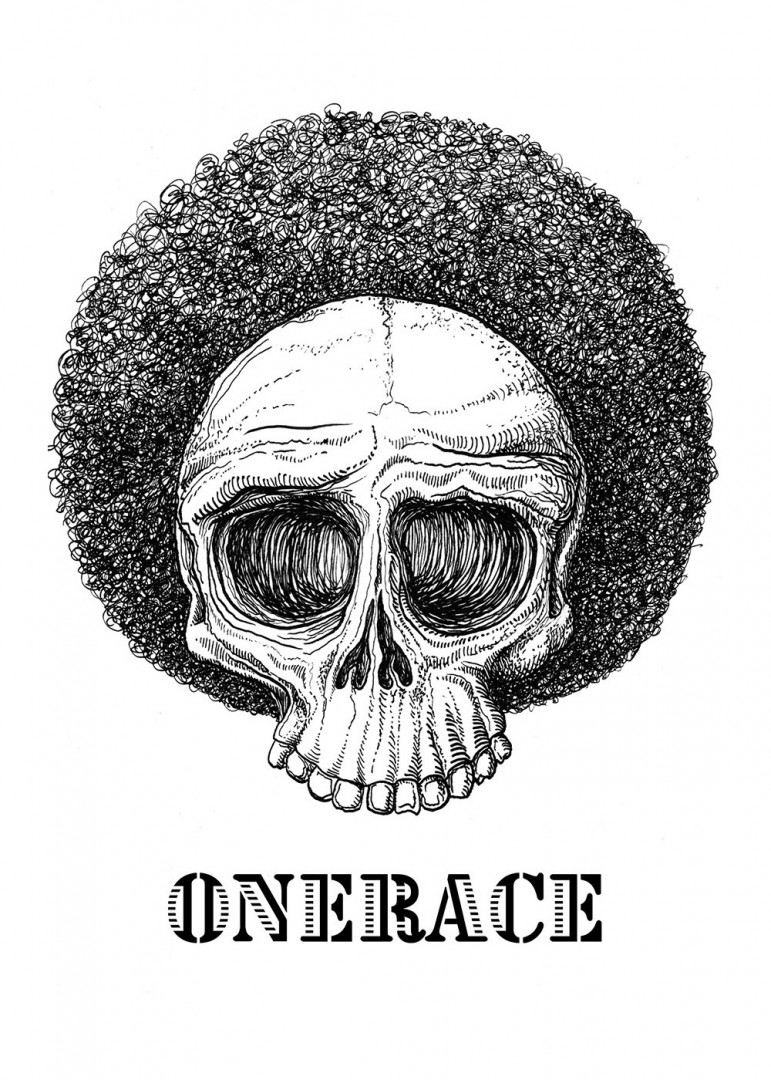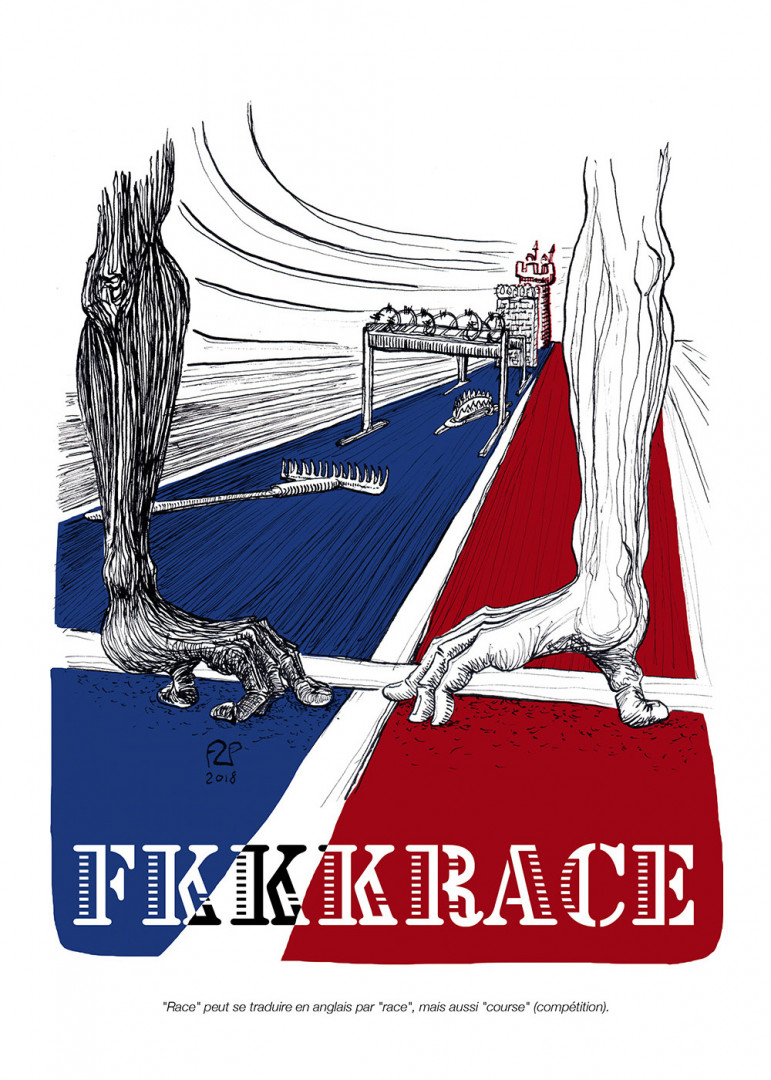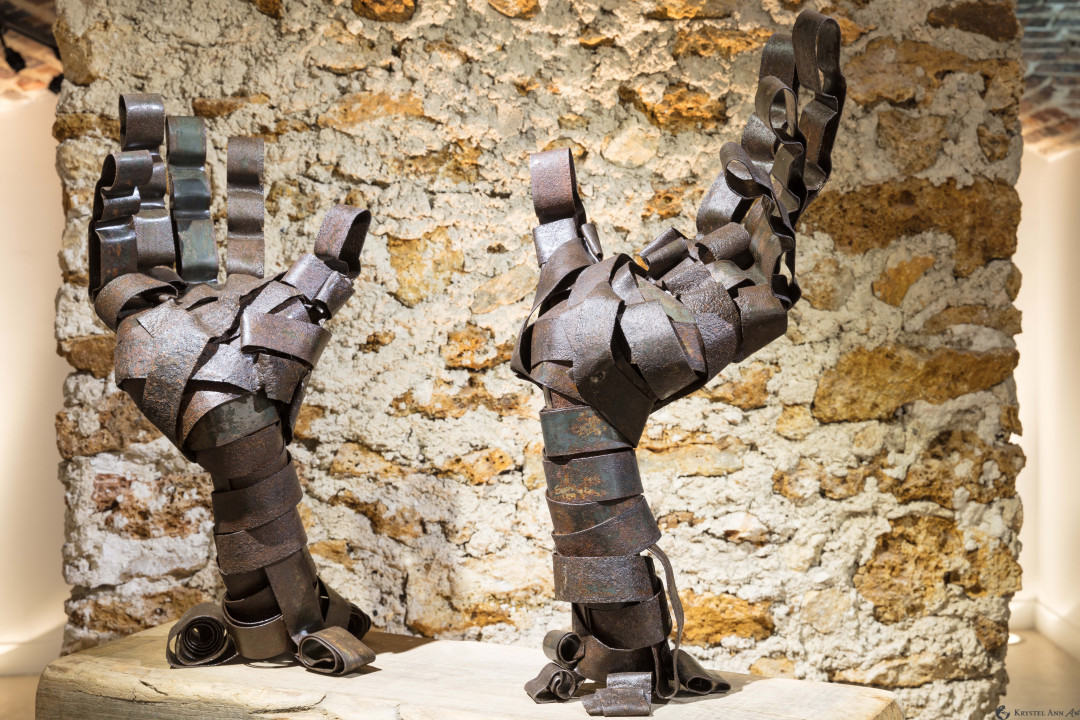 Série "Darboussier" - Braided iron blades sculpture - 73X28X23 cm - 2018
PRICE UPON REQUEST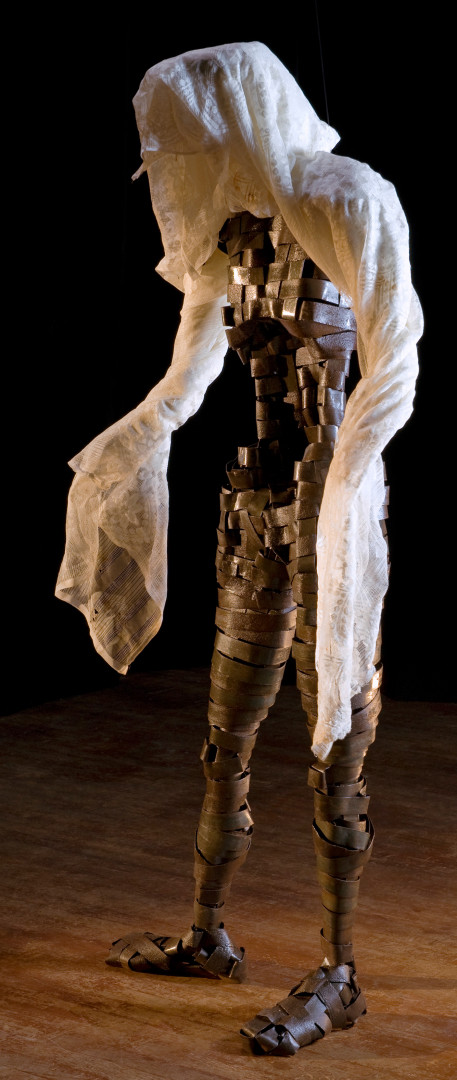 "En blanc" - Braided iron blades sculpture - 200X100X55 cm - 2018
SOLD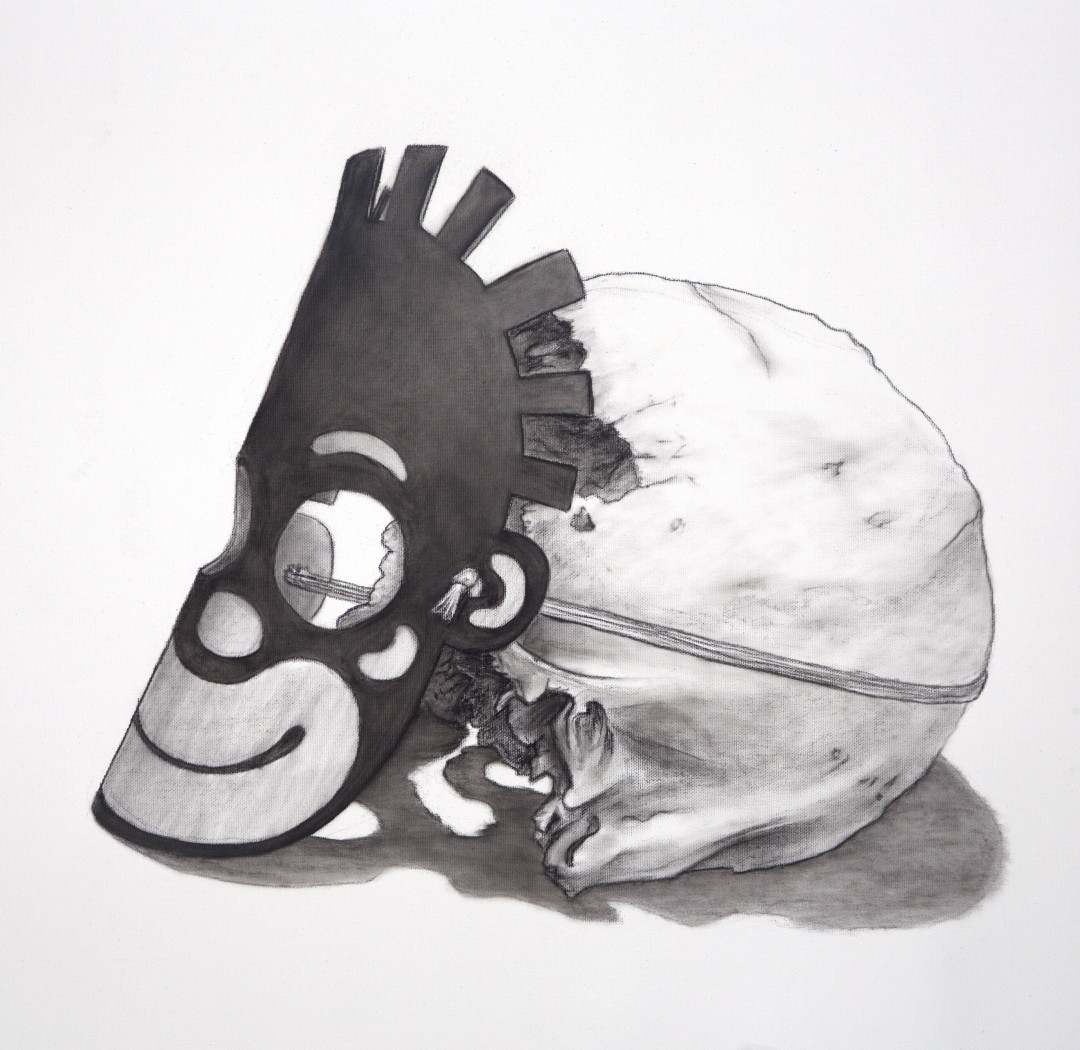 Série Réparation/Simulacre - "Alter Ego" - Charcoal on canvas - 80X80 cm - 2015
PRICE UPON REQUEST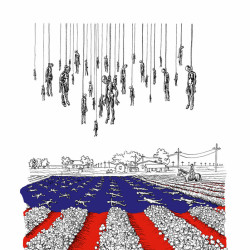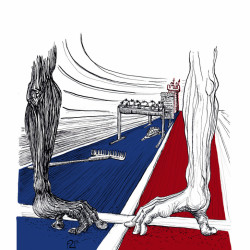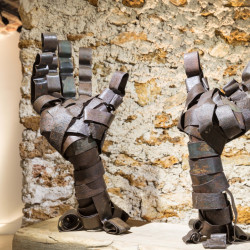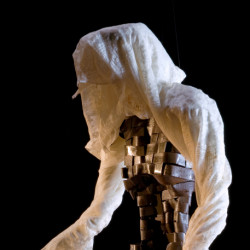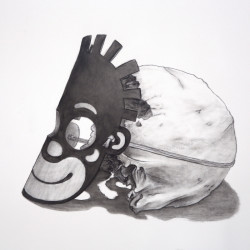 Biography
Born in Paris suburb, he obtained an Industrial Design engineer degree, and simultaneously developped musical performing and graphical and multimedia design. Arrived in Guadeloupe in 2000, he moved to professional video and developed in parallel solo production, for his first paintings exhibition in 2005. He then created "Collactif", a group of urban artistic intervention, which participated in the 2007 "Reappropriation of Darboussier" (an old cane sugar factory), an art event where he braided his first sculpture, monumental, with iron strips that were used to hoop rum barrels. It was a revelation.
His first sculptures were purchased in 2008 by the Guadeloupe administrations (Museum of the cane, Memorial Act). He continued to produce and experiment and participated in numerous exhibitions. In early 2009, he was a founding member of "Awtis 4 Chimen", association of visual artists occupying the "L'Herminier" Museum's at Pointe-à-Pitre, and co-produced the first Salon of Contemporary Art in Guadeloupe in 2010.
He then presented his first solo exhibition, "IRON & SKIN" in Guadeloupe and Martinique, and installed sculptures in the streets of Marseille (France) for an artistic residency in 2011.
He continues his exploration of caribbean contemporary creation in 2012, Puerto Rico, Dominican Republic and Sint Maarten. Since 2013, he has focused its production on public spaces, ephemeral and permanent urban interventions in Guadeloupe, Martinique, France and Senegal always with the research of Caribbean experimentation, coupled with social commitment.
He presented "Reparations" in 2016, and has since participated in several collective exhibitions and international fairs in the Caribbean and Europe.
The International Slavery Museum in Liverpool (UK) has just added it to its permanent collection.
Francois Piquet lives and creates in the "Tout-Monde", the caribbean area, which he considers as a "laboratory of the world which is coming". He chooses to experiment Edouard Glissant's "creolisation" and the contingencies of a contemporary multiform art.
Interactive sculptures, site-specific installations, street-art, video, and social immersion of the artistic gesture : his approach is resolutely contemporary, using humour and constant experimentation of new process, materials and media to provide accessible, non politically correct and challenging points of view on human relations. To replace art in its social and utopic functions and create encounters.
Exhibitions
SOLO EXHIBITIONS

"Réparations", Fonds d'Art Contemporain - Guadeloupe, 2016
"Jean de Souche" - Guadeloupe, 2014
"Les Archipels du moi" - Guadeloupe, Martinique, Sint-Marteen, 2013
"Le fer et la peau", Scènes nationales de Guadeloupe & Martinique - 2011
GROUP EXHIBITIONS
"Pré-requis à la discussion décoloniale", workshops - Aarhus, Denmark, 2018
"Embodyment & decolonial discussion" - Liverpool, United Kingdom, 2018
"Éclats d'Îles Vol.2", 24beaubourg - Paris, 2018
"Kreyol Gartden", jardins du Memorial ACTe - Guadeloupe, 2018
"Ink & Blood", International Slavery Museum - Liverpool, 2017-2018
Foire d'Art Contemporain - Lausanne, Suisse, 2017
"Echos Imprévus" / Turning Tide, Memorial ACTe - Guadeloupe, 2017
VERA Festival - Lisbonne, Portugal, 2016
Festival Caribéen de l'Image, Memorial ACTe - Guadeloupe, 2015
"Alternate currents", exhibition with DVCAI artists from Miami - Guadeloupe, 2015
Pool Art Fair - Guadeloupe, 2014
Art BEMAO - Guadeloupe, 2013
Les Faubourgs de l'art - Nancy, France, 2013
Symposium de sculpture - Villers-lès-Nancy, France, 2013
Culture à l'Hôpital, commandes pour le CHU de Pointe-à-Pitre - Guadeloupe, 2012
"Equipaje Compartido", Palacio Nacional de Bellas Artes - Republica Dominicana, 2012
"Equipaje Compartido", Galeria Guatiribi - Puerto-Rico, 2012
International Conference of Caribbean Studies Association - Guadeloupe, 2012
"NOU", Interactive street sculptures, POC festival - Marseille, France, 2011
Installation - Amiens, France, 2011
Carte blanche aux artistes guadeloupéens, Musée Schoelcher - Guadeloupe, 2010-2011
"Corps / identité" - Martinique, 2010
Marché d'Art Contemporain du Marin - Martinique, 2009
"Cheminement, Awtis 4 chimen", Musée Lherminier - Guadeloupe, 2009
"Trio" - Guadeloupe, 2008
"Espaces délaissés, espaces intermédiaires de la ville" - Guadeloupe, 2007
Collactif, urban art collective - Guadeloupe, 2006
Website