Artworks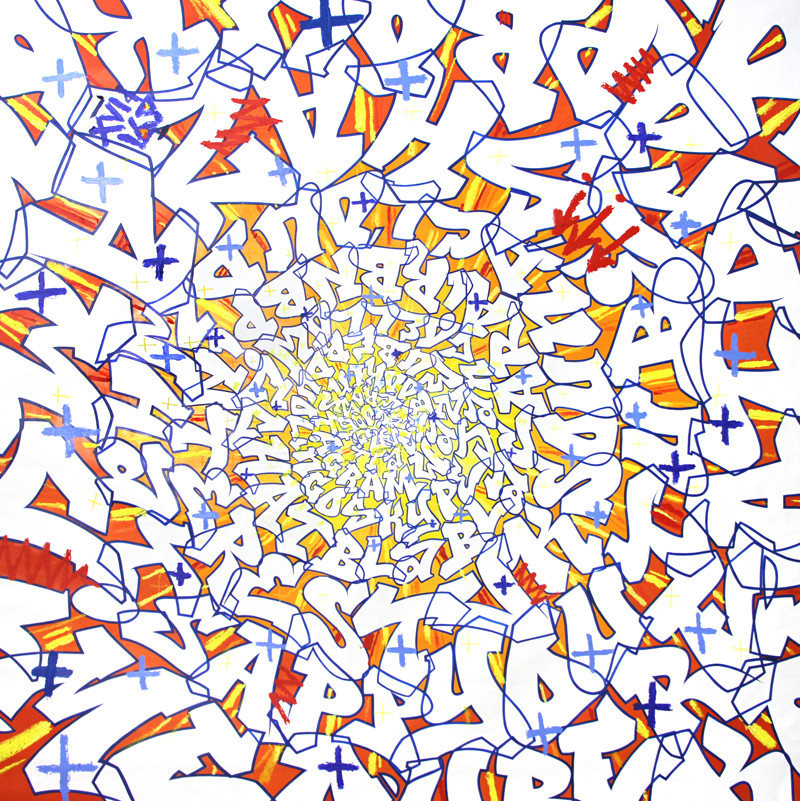 "Les nouveaux outils" - mixed media on French linen - 200x200cm - 2017
PRICE UPON REQUEST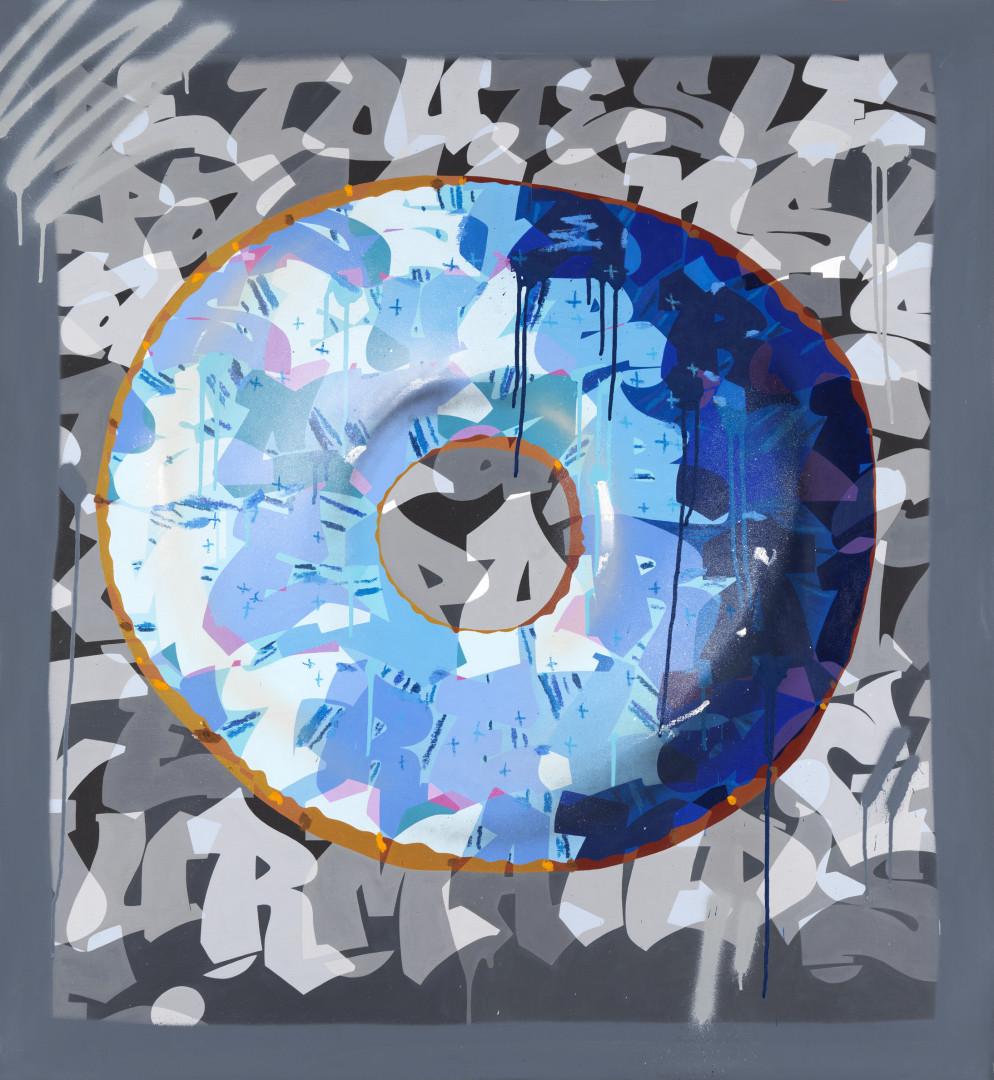 "Donut Bleu" - mixed media on French linen - 80x90.5cm - 2017
PRICE UPON REQUEST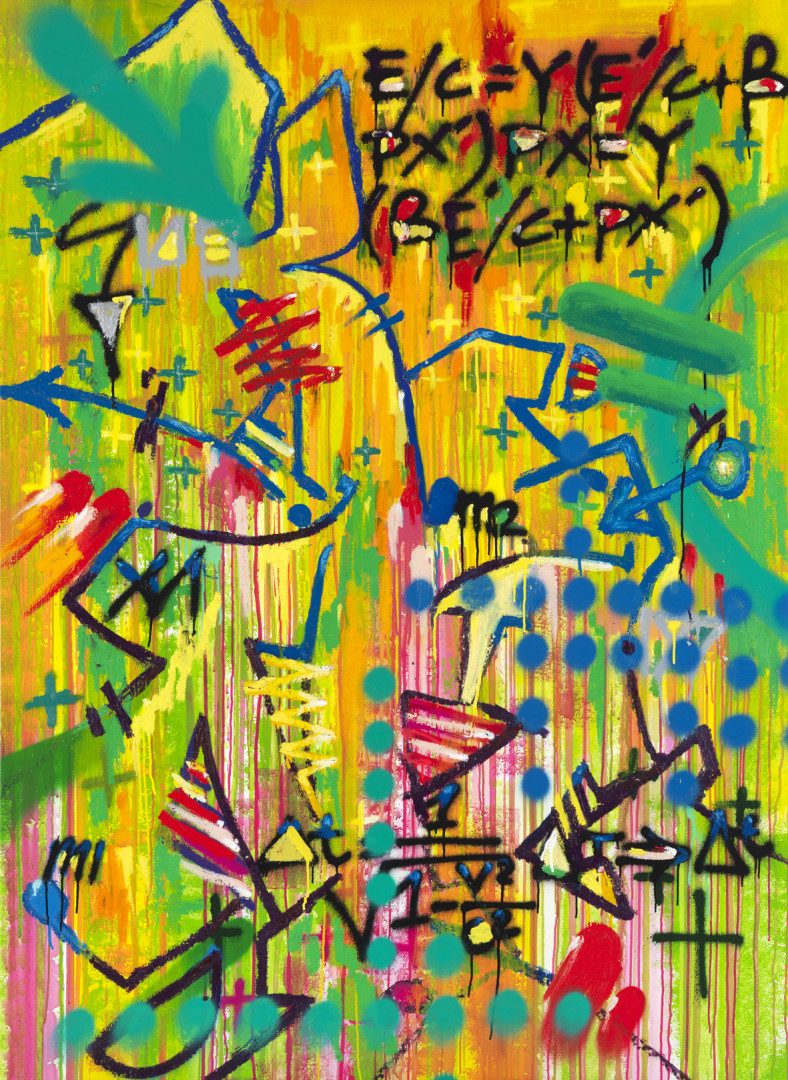 "Science Couleur" - mixed media on French linen - 180x130cm - 2016
PRICE UPON REQUEST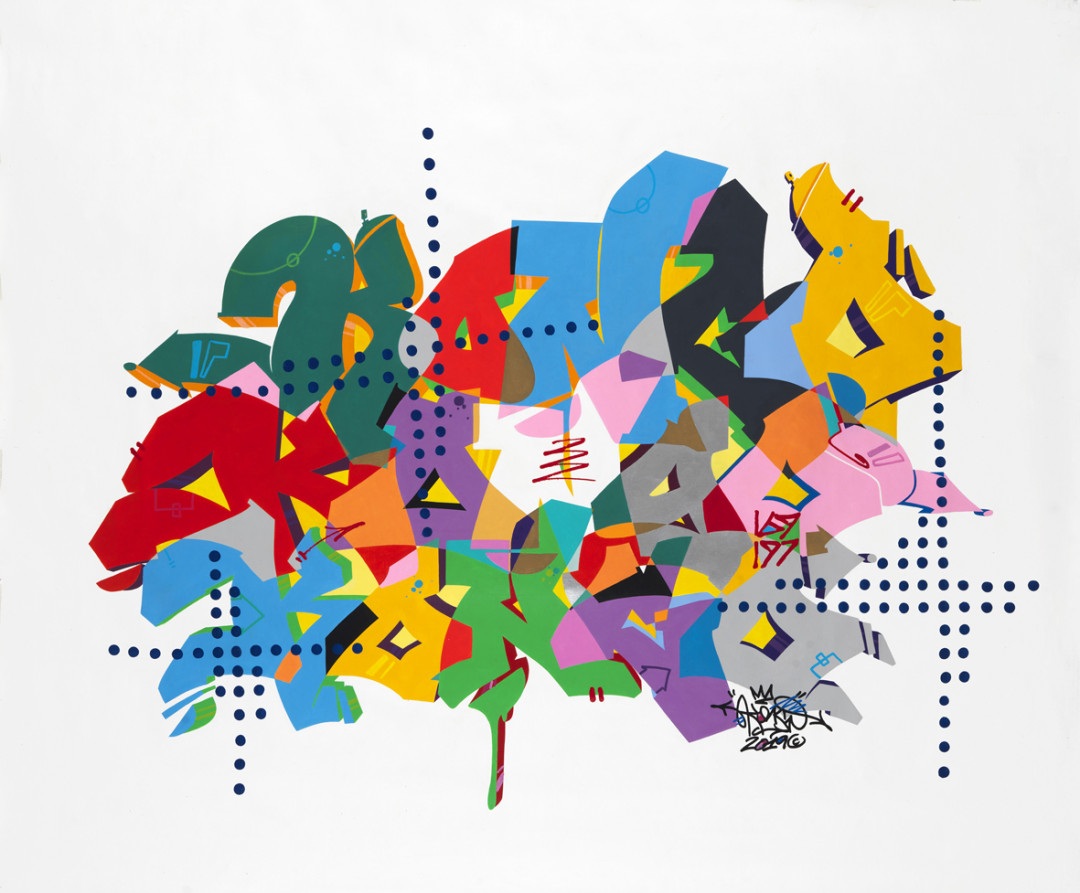 "Etre vivant" - mixed media on French linen - 162x130cm - 2019
PRICE UPON REQUEST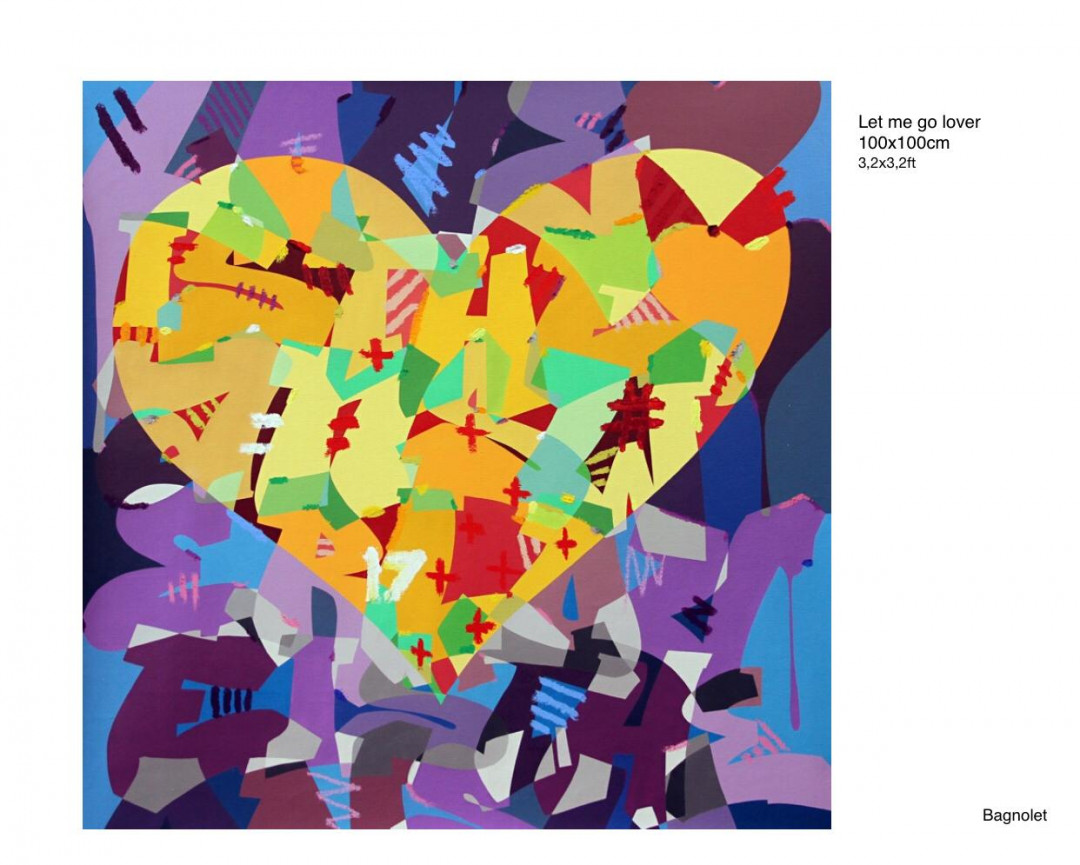 "Let me go lover"- mixed media on French linen - 100x100cm - 2018
PRIVATE COLLECTION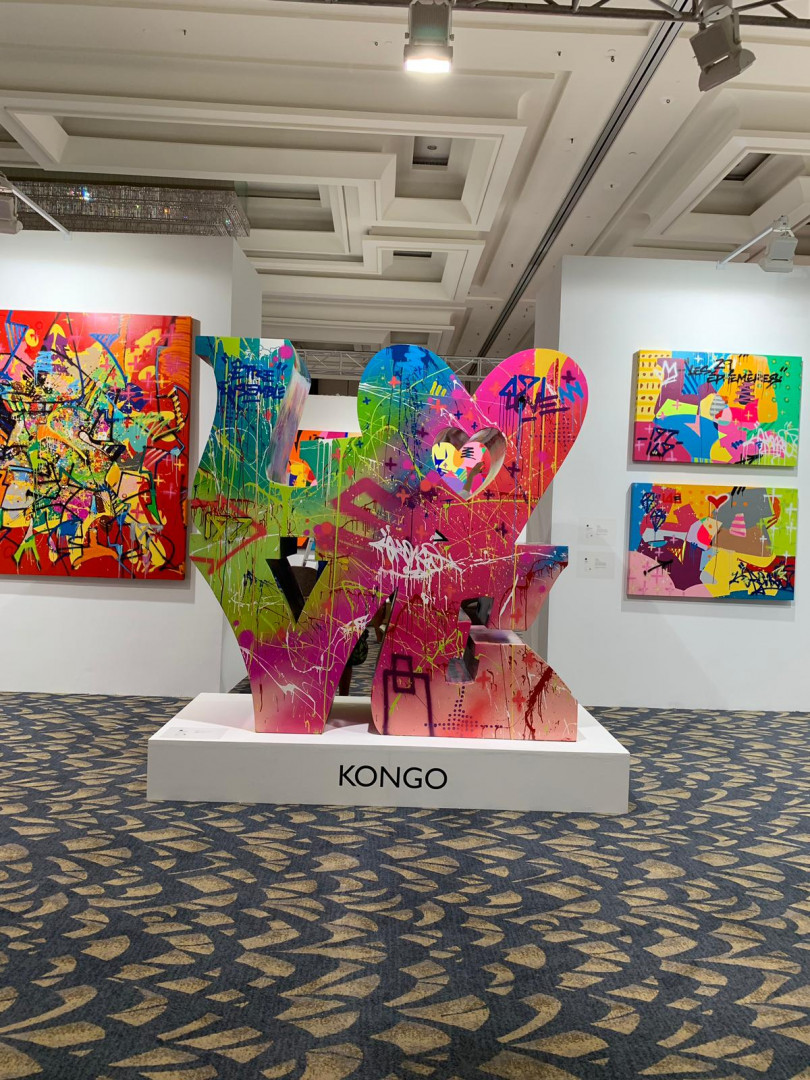 "Love"- Fiberglass sculpture - 200X200x100cm - 2019
PRICE UPON REQUEST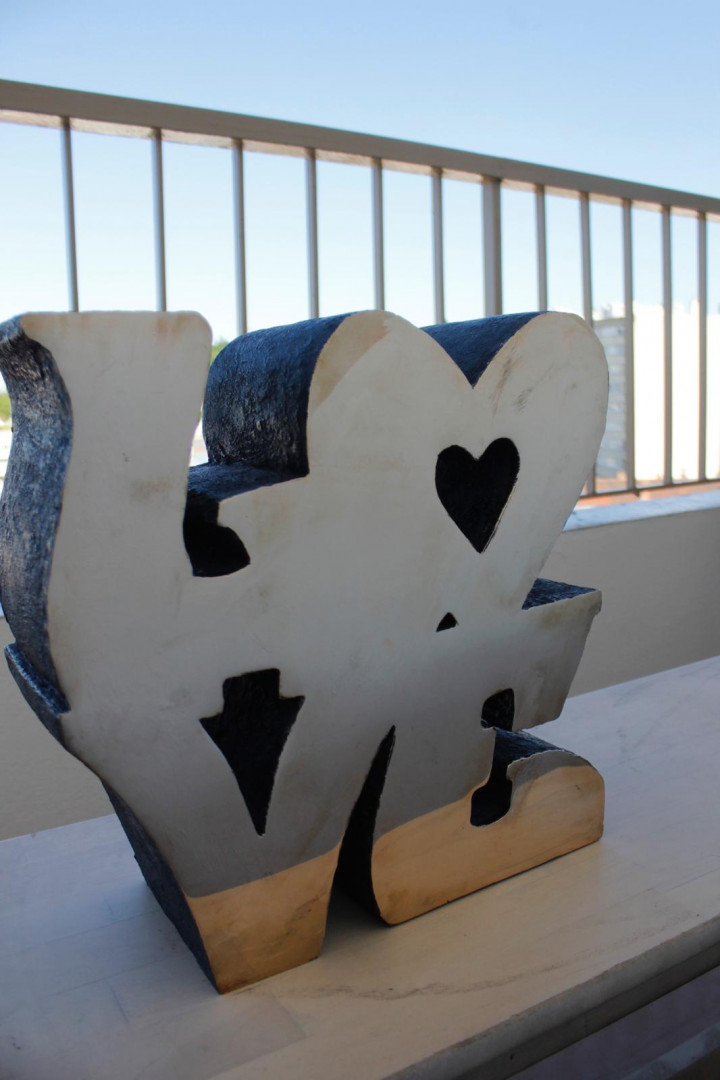 "Love"- Bronze sculpture - 70X70x30cm - 2019
PRICE UPON REQUEST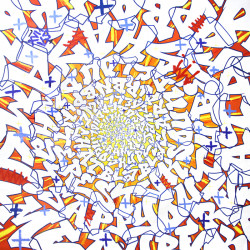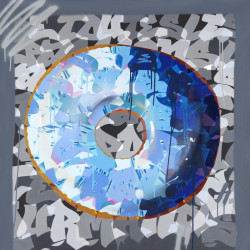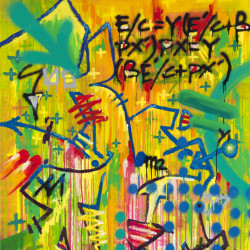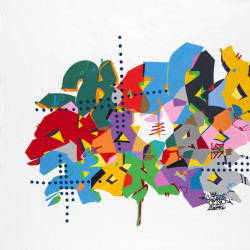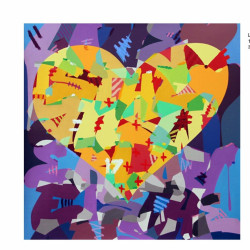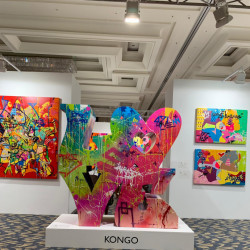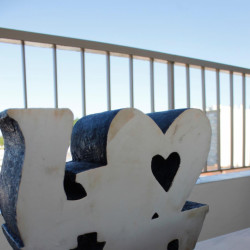 Biography
Cyril Phan is a French graffiti artist born in 1969, better known under the internationally pseudonym of Kongo. He is one of the leading figures of the French graffiti art scene.
Born to a Vietnamese father and French mother, after the fall of Saigon in 1975, the artist lived two years in the Republic of Congo with his mother. Kongo first started doing graffiti in 1986. He was a part of the famous MAC Group – Mort Aux Cons. Kongo was first known as a tagger and graffiti artist on the Parisian, European and American urban scene. In twenty years of practice, he became a recognized international Graffiti artist. He has contributed greatly to defend graffiti as an artistic discipline.
Cyril Kongo's body of work is marked by his experiences and his vision of life.
After painting in the streets for more than 30 years and working so graffiti can be perceived differently, this artiste is now considered as a pioneer who understood how to break the codes and build something new through his contemporary and avant-gardiste point of view. His influences are multicultural, his level of excellence and his capacity to create new bridges between opposite worlds has forged his style and career.
Kongo has participated in many national and international festivals, exhibiting his works. His art was also featured in several gallery exhibitions, mostly in France. His works are now part of important private collections.
With this recognition, prestige brands began to commission Kongo for the creation of luxury goods, including a silk scarf (a carré) with Hermès in 2011; a pâte de verre spray-paint can with crystal manufacturer Daum in 2016, and a watch with Richard Mille.
While evolving in his art and his vision. Cyril Kongo has therefore been able grow and attract attention more and more. That is how Karl Lagerfeld has been drove to him and ended up collaborating with him for the 2018 Chanel Métier d'Art collection showed in New York. This prestigious collection emphasizes the most specific and complicated technics in the industry of haute couture.
This artist is representing the subculture of graffiti and is evolving in the institutional art sphere. He's goal is not to change graffiti but to make his perception evolve. Cyril Kongo presents is knowledge and his background as a precious savoir-faire, that he is using as a tool to highlight crafts and technics from our legacy and give them a new life. For him it is a bridge that can link the past to the future with common vision of hard work, excellence and creativity.
Exhibitions
2019
Immortels (solo show) - Saint Barthélemy - France
2018
Chanel Métier d'art Paris (solo show and collaboration) - New York, USA
Kongo (solo show, presentation of the plane) - 8e Avenue Champs-Elysées, Paris, France
Galerie Byblos of hotel Byblos, St Tropez, France
Bitcoin (solo show) show room Pinel & Pinel - Hong Kong, China
2017
Love is the answer (solo show) - Galerie Art Thema Bruxelles, Belgique
Kongo chez Barnes (solo show) - Paris, France
Les éphémères de Kongo (solo show) - Rue François Premier, Paris, France
Vos papiers s'il vous plait (solo show) - La Fabrique Royale, Paris, France
Applications (solo show) - Galerie Taglialatella, Paris France
2016
Power of link - Arthema Galerie, Bruxelles, Belgique
Off the wall D.Gallery - Jakarta, Indonésie
Off the wall (exposition collective au musée national de Jakarta) - Kakarta, Indonésie
2015
Mr colorful (solo show) - Galerie Matignon, Paris
2014
Matignon présente "Kongo" (solo show) - Galerie Matignon, Paris
2013
A Stroll in Paris with Kongo (solo show) - D.Gallery, Jakarta, Indonésie
J'adore l'art de rue (solo show)- Ming art gallery, Taipei, Taiwan
2a Bienal Internacional Graffiti Fine Art - MuBe- São Paulo, Brazil
2012
From Paris with Love (solo show) - Galerie 28th Février, Singapour
One Love - Central Plaza, Hong Kong, China
Ne pas effacer - Galerie Wallworks, Paris
Do Not Erase - G-Dot Art Space, Pekin, China
Bon baiser de Paris (solo show) - Déjà Vu Gallery, Shangai, China
Off The Wall Paris - Galerie Wallworks, Paris, France
2011
Off The Wall - Artspace @ Helutrans, Singapour
L'art du graffiti, 40 ans de pressionisme - Grimaldi Forum, Monaco
Graff in the City - Opera Gallery, Paris France
De la rue jaillit la couleur (solo show) - Galerie Wallworks, Paris, France
Infamous - The Space Gallery, Hong Kong, China
2010
Pick it Up - Dragon I, Hong Kong, China
Macrew - Galerie Quality Street, Montreuil, Seine-Saint Denis
The Oven's Hot, The Bakery Gallery, New York, United States
Kosmo Art Tour - Bruxelles, Belgium
Propaganda Revolution - M1nt, Hong Kong, China
Wall Street Arts - Salihara Gallery, Jakarta, Indonesia
2009
Street Heart - Tokyo Art Club, Palais de Tokyo, Paris France
Le Tag au Grand Palais - Collection Gallizia, Grand Palais, Paris, France
Mac Hexagonade, Pol'N, Nantes, France
Thomas Lélu_Works with Kongo, Galerie Dominique Fiat, Paris, France
FIAC, Cour Carrée du Louvre, Galerie Dominique Fiat, Paris, France
2008
Infusion - Bochum, Germany
MAC Sous le granit de 68 - Kosmopolite, Bagnolet, France
Hip Hop Dôme - Bondy, Seine-Saint-Denis, France
2007
Graffiti & Consumption - Biennale bi-city Hong Kong, Shenzen, China
Moleskine Citynotebook exhibition, Hong Kong, China
2006
Moleskine Citynotebook exhibition - Tokyo, Japan
2003
MAC crew - Groeninge Museum, Bruges, Belgium
2002
Ombre et lumière - Taxie Gallery, Paris, France
2000
Calli-graff - La Laiterie, Centre Européen Jeune Création, Strasbourg, France