Artworks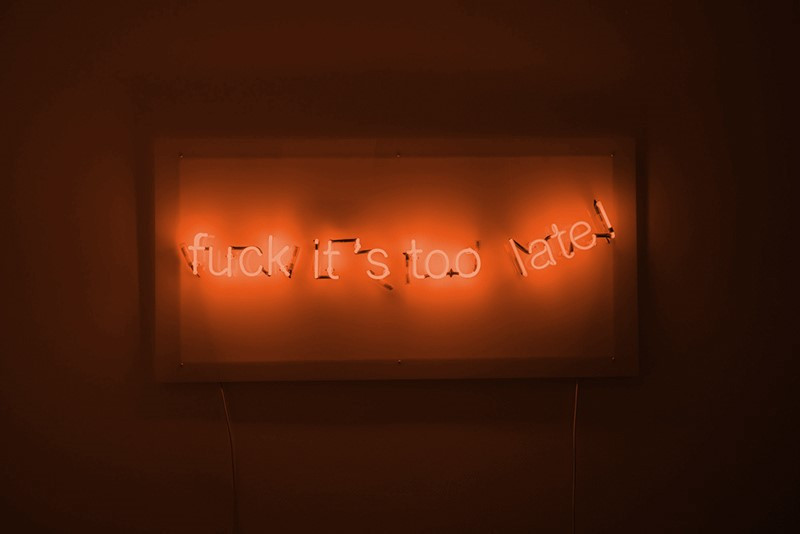 "Fuck it 's too late" - Neon - 60 x 120 cm - 2017
PRICE UPON REQUEST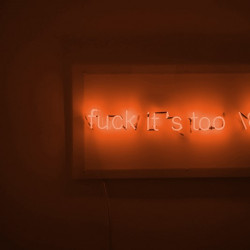 Biography
Born in 1983 in Luanda, Binelde Hyrcan spent the first years of his life in Angola. During the war and his childhood, he was deeply marked by the deaths and massive destruction in the city. Cadet of a family of thirteen children, he quickly felt the desire to build walls to protect himself against a world of despair.
He studied Arts in Monaco and his production crosses sculpture, painting, design, video art and performance. The different supports are the mechanisms used by the artist to reflect paradoxes and complexities of customs and political-social attitudes, thus criticizing structures of power and human vanity.
His most famous work is "thirteen hours", an installation in which stuffed chickens wear clothes and reflect social roles, exhibited in Marseille, the European city of culture 2013.
"Fuck it's too late" refers to the latent ambiguity of the idea of ​​time and temporalities in its relationship with the socio-local dimension of the economy.
Exhibitions
COLLECTIVE EXHIBITIONS
2018
"EX AFRICA"
Rio de Janeiro - Brazilia - São Paulo - Belo Horizonte - Brasil
"AILLEURS EST CE REVE PROCHE" - Villa du Parc - Annemasse – France
"LE BAL" - Paris – France
"GAUDIOPOLIS" - Leipzig – Germany
"VOYAGE" - Neudorfl - Austria
2017
"SPACE 38 CC" - Delft – Netherlands
"SOUTH SOUTH" – Goodman Gallery - South Africa
"TWEETKAT" - Utrecht – Netherlands
Markte & Meschen/ Markets & Men - Swiss
" HOW TO LIVE TOGETHER " Kunsthalle - Vienna – Austria
PORI ART MUSEUM - Pori – Finland
OFF BIENNALE - Budapest – Hungary
"NEW WORK" – Balcony Gallery - Lisbon - Portugal
"I TRAVELLED THE WORLD AND THE SEVEN SEAS" - Antwerp – Belgium
2016
SURPRISE - NETWORK vzw - Aalst – Belgium
AFRICAN STUDIES GALLERY - Tel Aviv - Israël
INGA GALLERY - Tel Aviv - Israël
ZEITZ MOCAA (Zeitz Museum of Contemporary Art) - Cape Town – South Africa
"Dopo I Frutti" - Marseille - France
"Capital Debt – Territory – Utopia" - Nationalgalerie im Hamburger Bahnhof – Museum für Gegenwart – Berlin – Germany
"Velhas Estórias e Novos Papéis Pop-Up Mash-Up" - Espaço Luanda Arte (ELA) – Luanda – Angola
Stosunki Pracy Contempory Museum - Wroclaw – Poland
"Good Space – Political, Aesthetic and Urban Spaces" - Galerien der Stadt Esslingen am Neckar – Esslingen – Germany
"Hacking Habitat Utrecht" – Netherlands
"La Nuit Blanche" - Monte Carlo – Monaco
"A Midsummer Night's Dream from F. Mendelssohn / W Shakespeare" - Opera - Bordeaux – France
CAC Art Center - Passerelle - Brest – France
CNEAI National Center Edition & Image - Paris – France
Gran Turismo Centre Pompidou
Paris – France
The Cera Project N'WE COLLECTIVE - London – UK
2015
"On Ways of Travelling" - The Angolan pavilion at the 56th edition of the Venice Biennale
"You Love Me You Love Me Not" Municipal Gallery Almeida Garret - Porto – Portugal
Anozero Biennale of Contempory Art - Coimbra – Portugal
"Chambres à part 10" – FIAC's VIP program - Paris-France
2014
"Sights and Sounds" - The Jewish Museum - New York – USA
Arterial Motive Street Road Pensylvania – USA
7a Bienal de Arte e Cultura São Tomé e Príncipe 2013
Transit The Bienal de São Paulo – Brazil
Le Pont Contempory Art Museum - Marseille - France
No Fly Zone Berardo Museum - Lisbon – Portugal
2012
"Mabaixa" - UNAP - Luanda - Angola
2011
On The Roof Paris Photo Silencio video projection "Cambeck" - Paris – France
2010
Triennal - Luanda – Angola
Retrospective Pierrick Sorrin " Lieu Unique " - Nantes - France
2009
Workshop "Help Haiti" - Rotterdam – Netherlands
Completion of the clip, Mathieu Chedid , Artist - Paris - France
2008
Quai Antoine Ier - Monte Carlo - Monaco
Three times two movements - Paris – France
SOLO EXHIBITIONS
2018
"LEGO NO PESCOÇO" - Luanda - Angola
2017
"FUCK IT S TOO LATE" – Gallery Balcony - Lisbon - Portugal
2016
Opening of III Trienal de Luanda Palacio de Fero - Luanda – Angola
2014
No Restriction II Columbia Gallery - Monaco

"EGO Kings and Queens" African Contempory Art Now Museum of Risorgimento Palazzo Morriggia Palazzo Morando - Milan - Italy