Artworks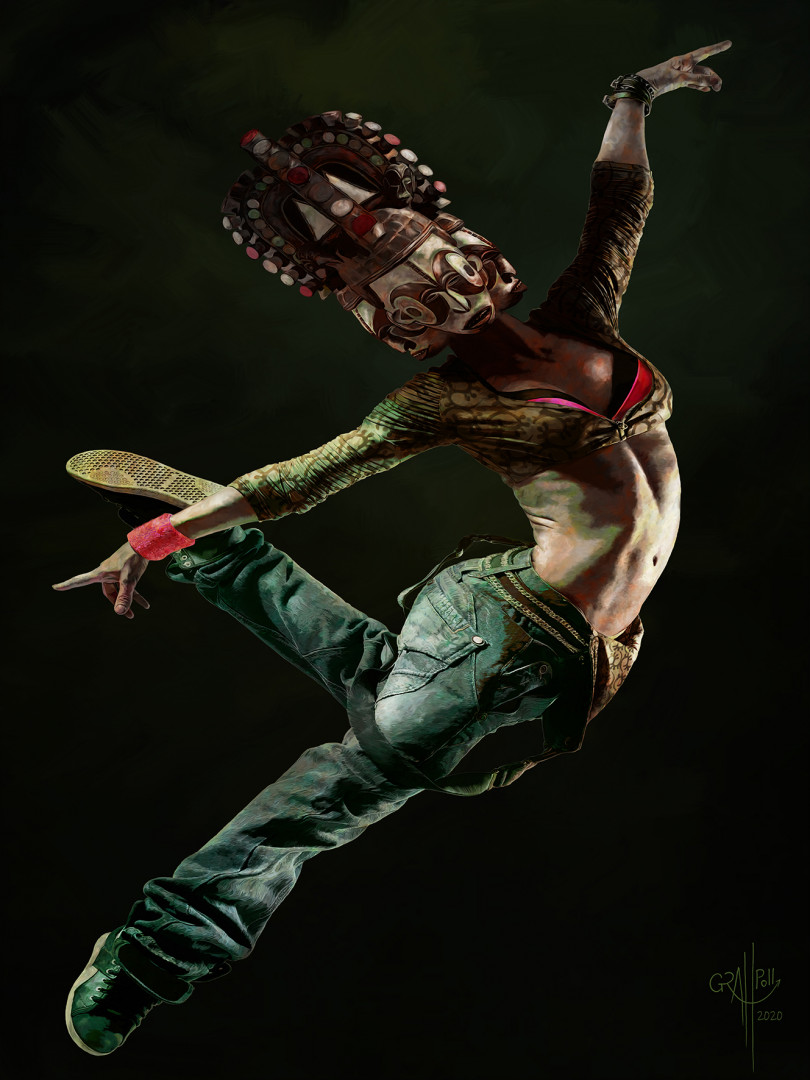 Grâce Agbogo Mmwo
Fine art pigment print on Fine art paper
90x60 cm
2021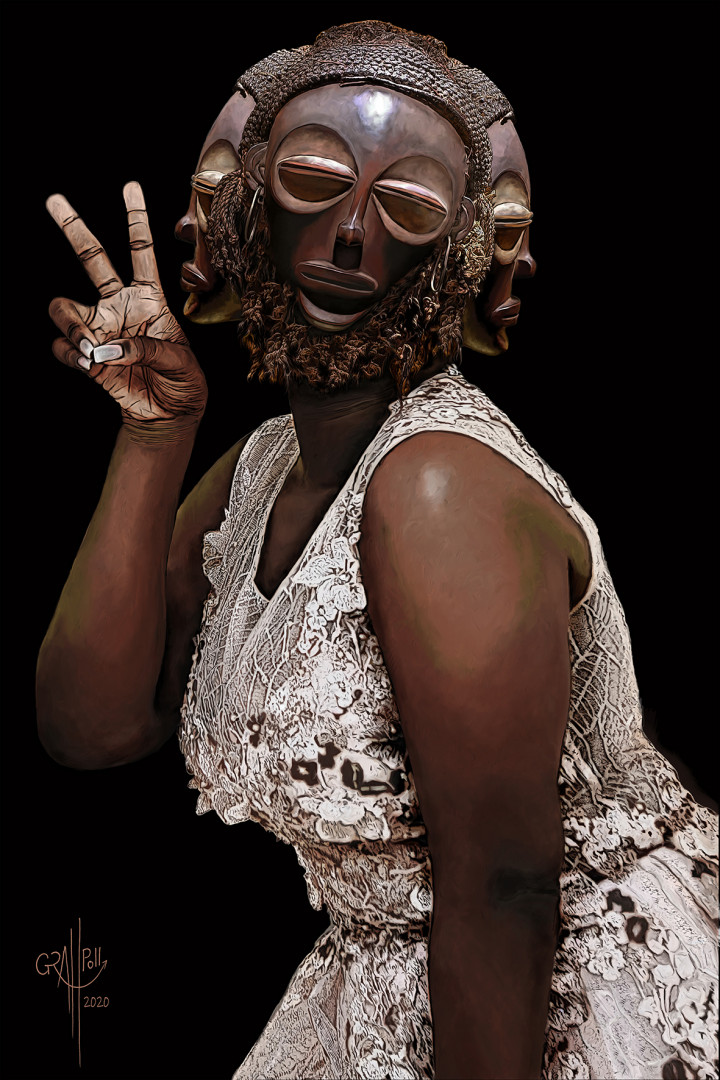 Perle Mwana Pwo
Fine Art pigment print on Fine art paper
90x60 cm
2021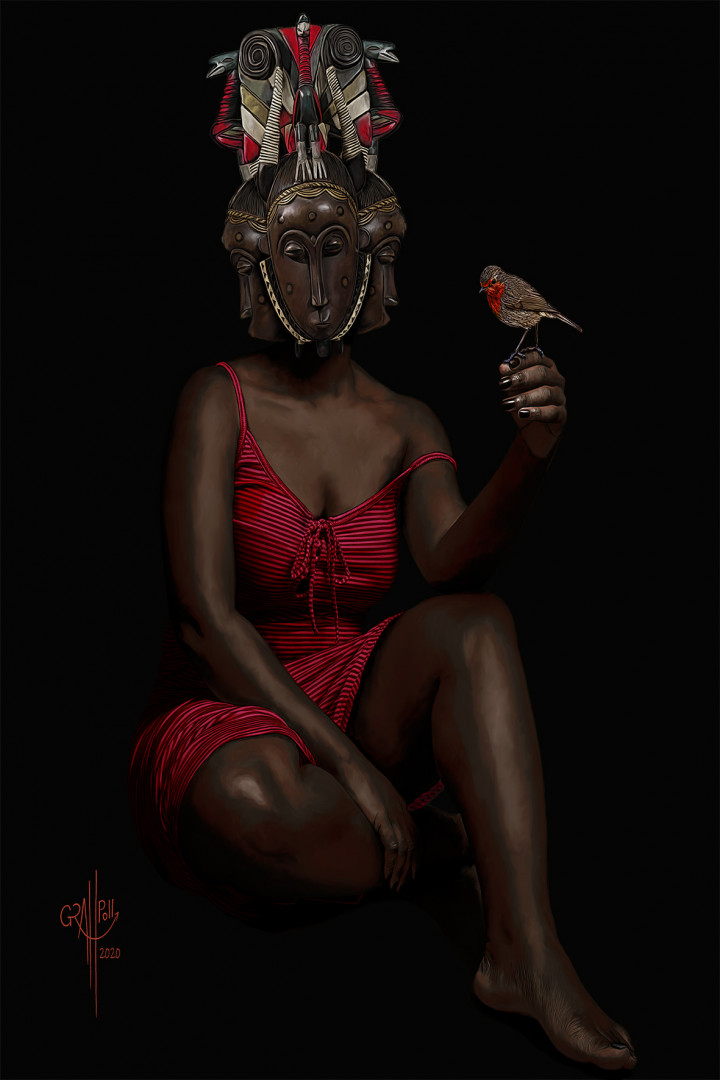 Promesse N'doma
Fine Art Pigment Print on Fine art paper
90x60 cm
2021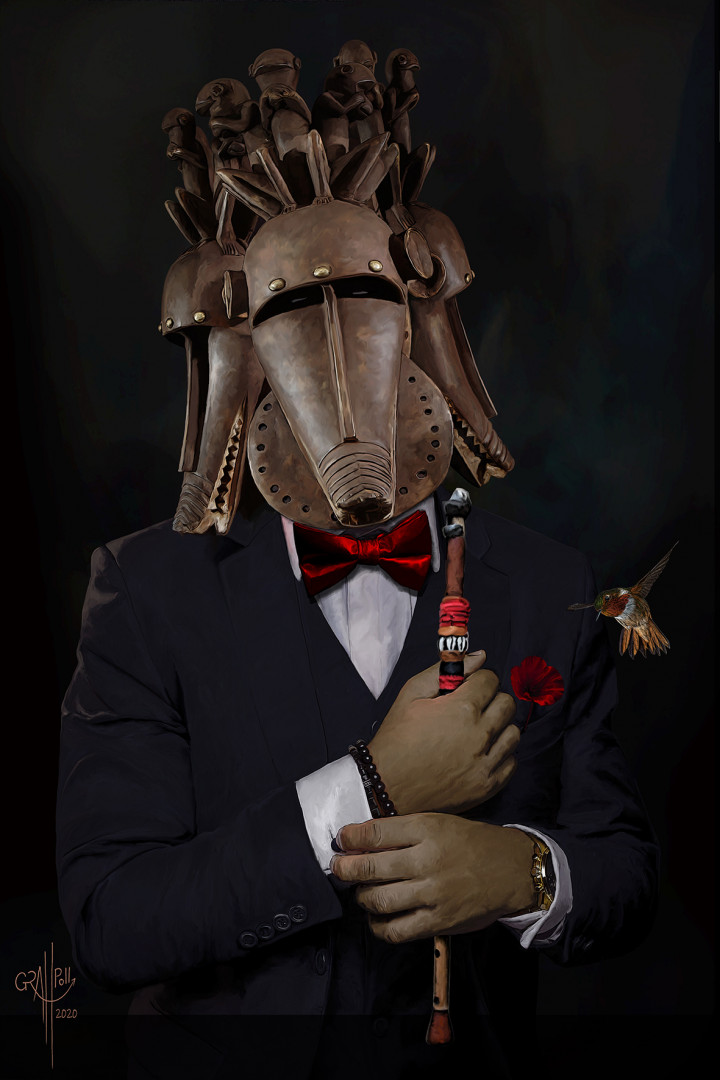 Roman Suruku
Fine art pigment print on Fine art paper
90x60 cm
2021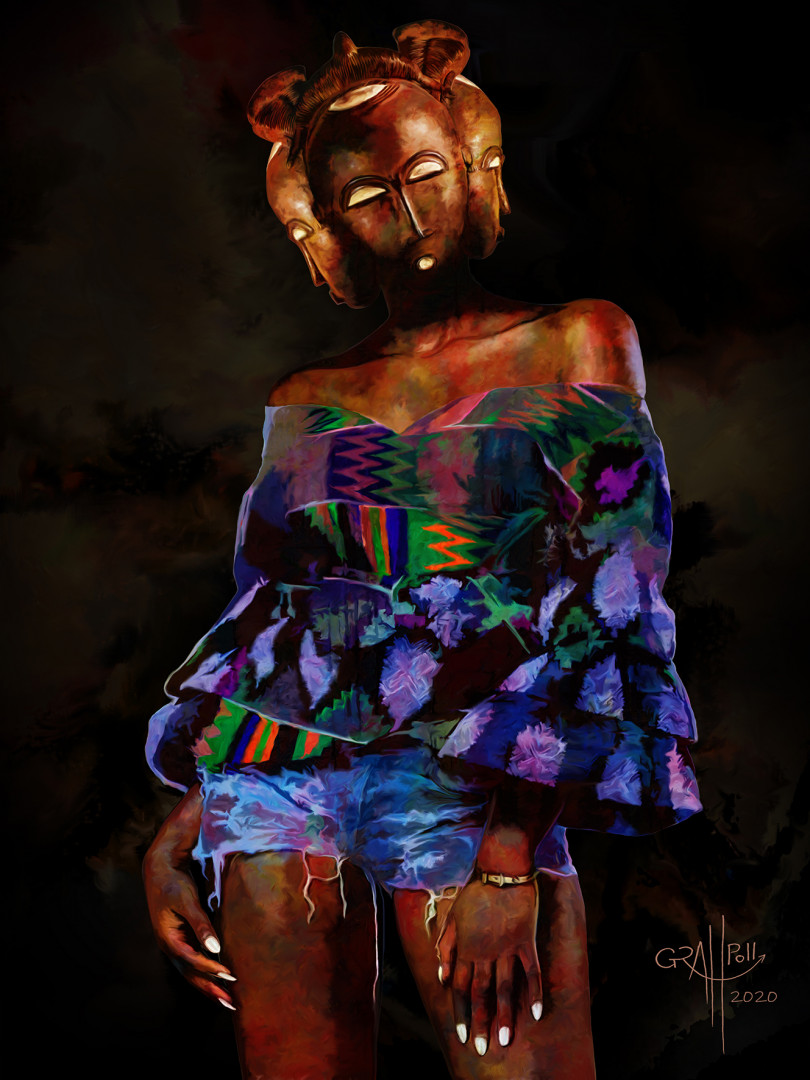 Romance nblo
Fine art pigment print on Fine art paper
90x60 cm
2021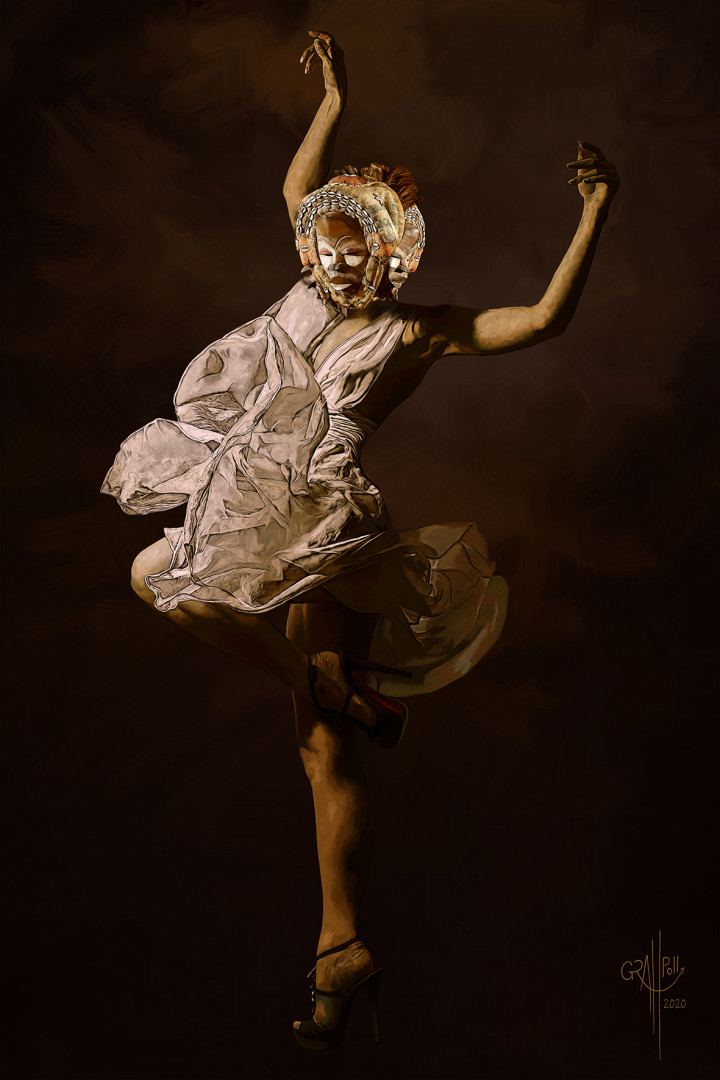 Blanche Tanglage
Fine Art pigment print on Fine art paper
90x60 cm
2021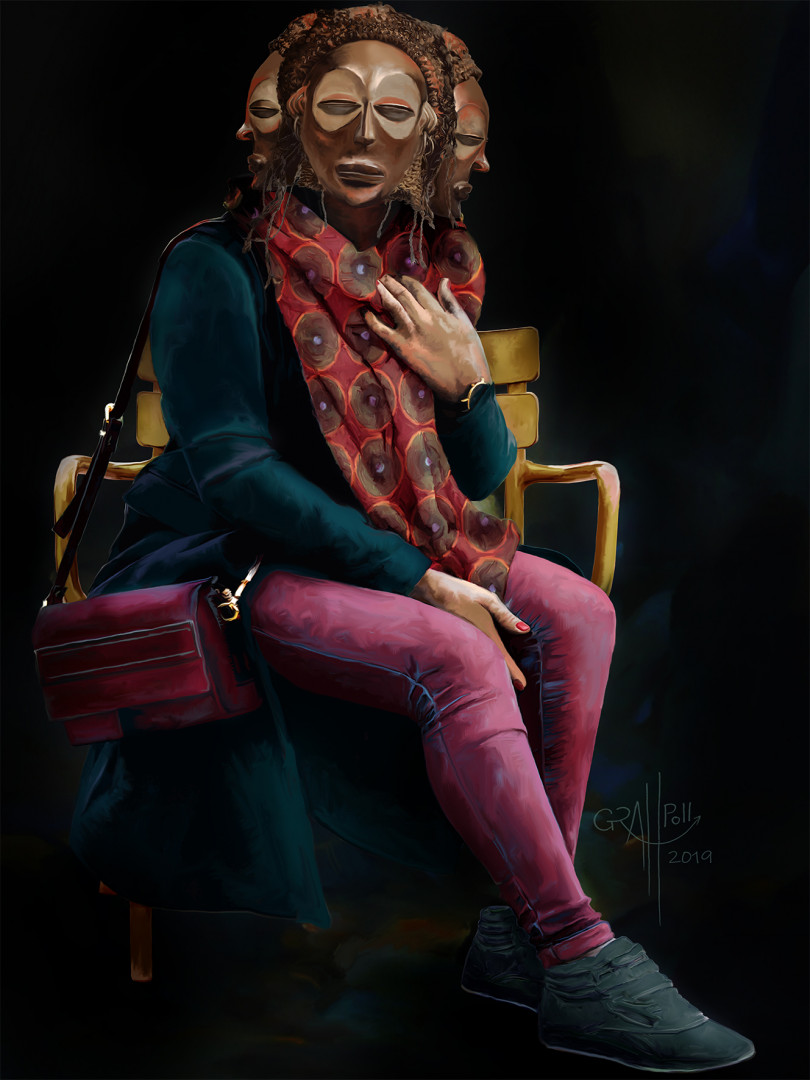 Claire Mwana Pwo
Fine art pigment print on Fine art paper
90x60 cm
2021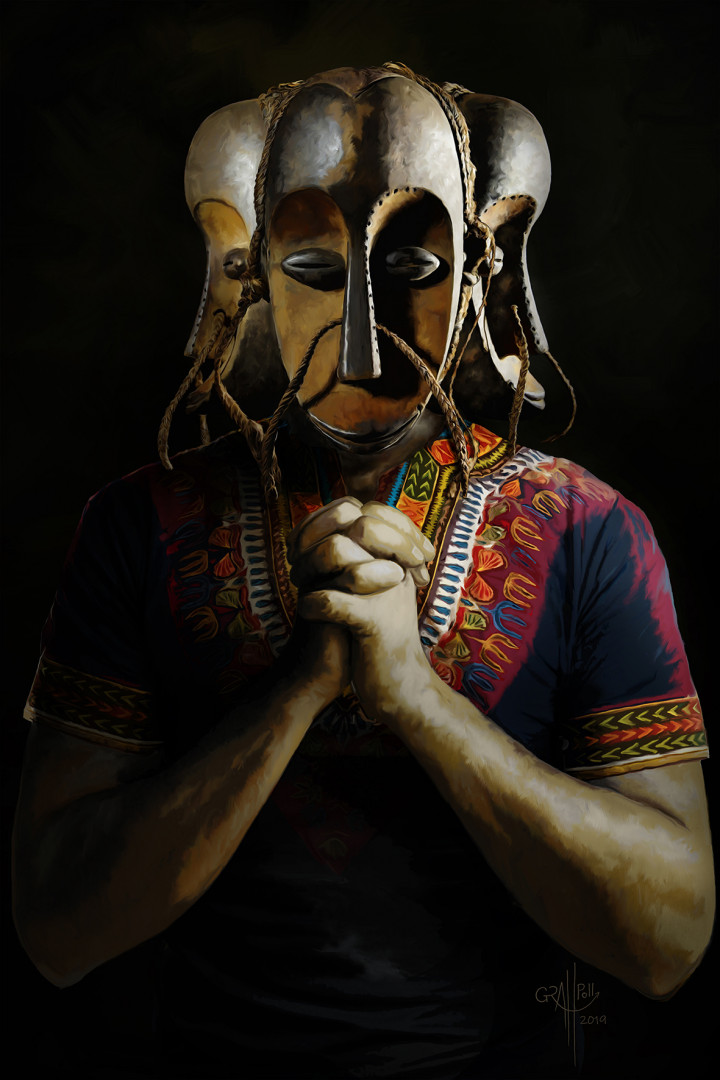 Clément Mahongwe
Fine Art pigment print on Fine art paper
90x60 cm
2021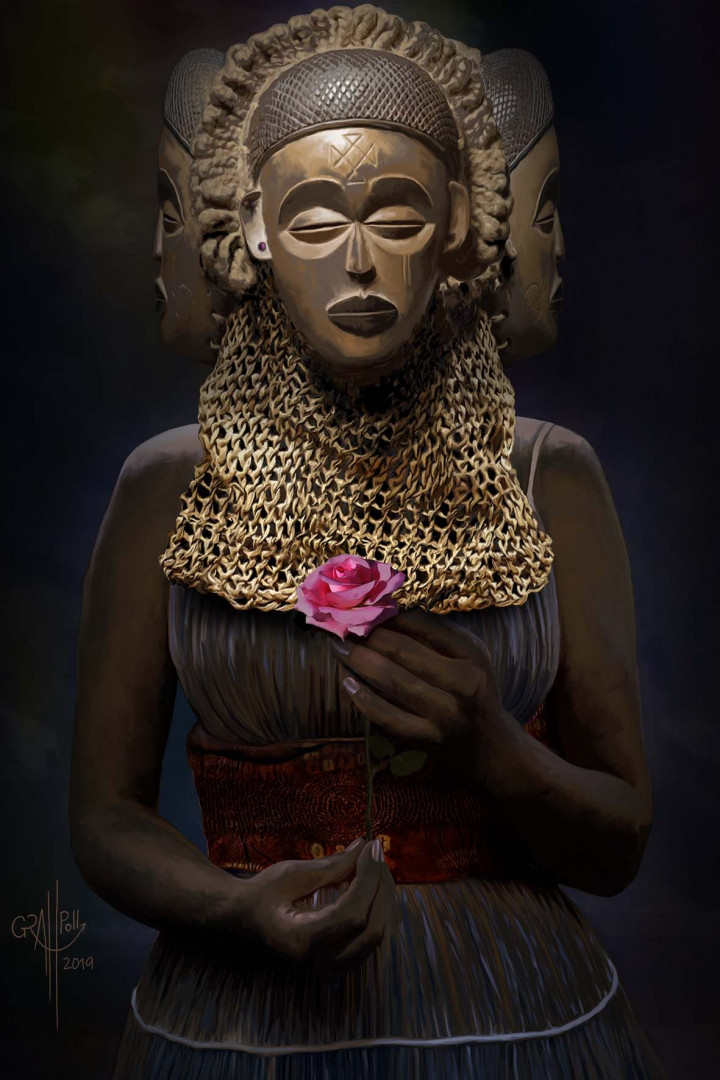 Fleur Mwana Pwo
Fine art pigment Print on Fine art paper
90x60 cm
2021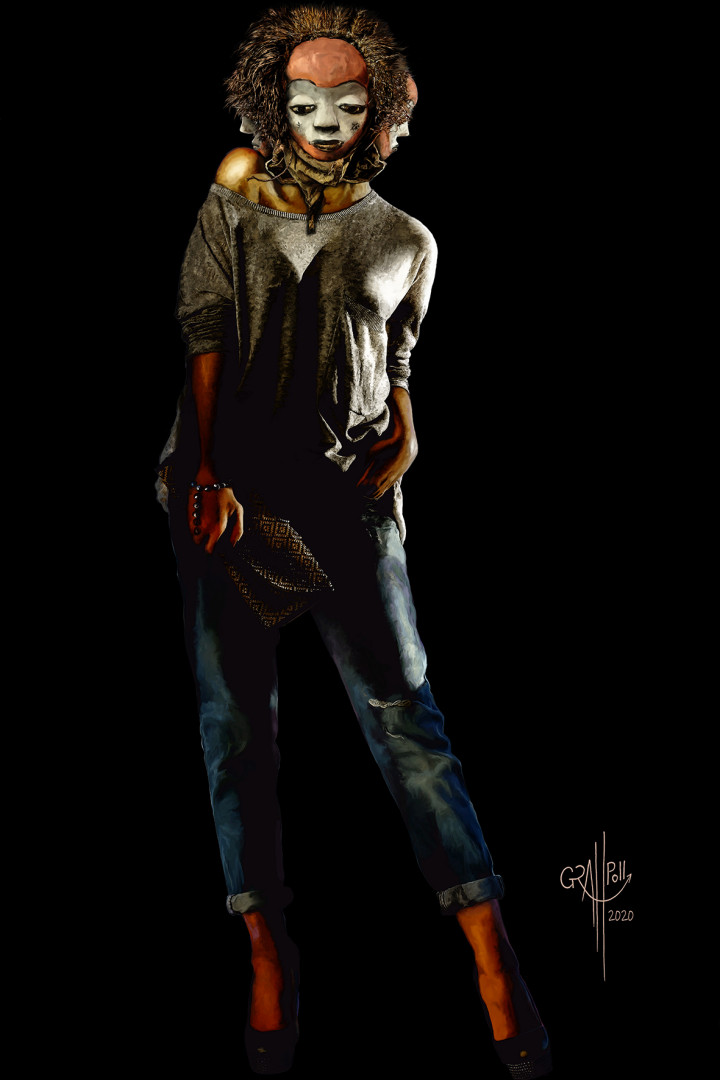 Kwese Aimée
Fine art Pigment Print on Fine art paper
90x60 cm
2021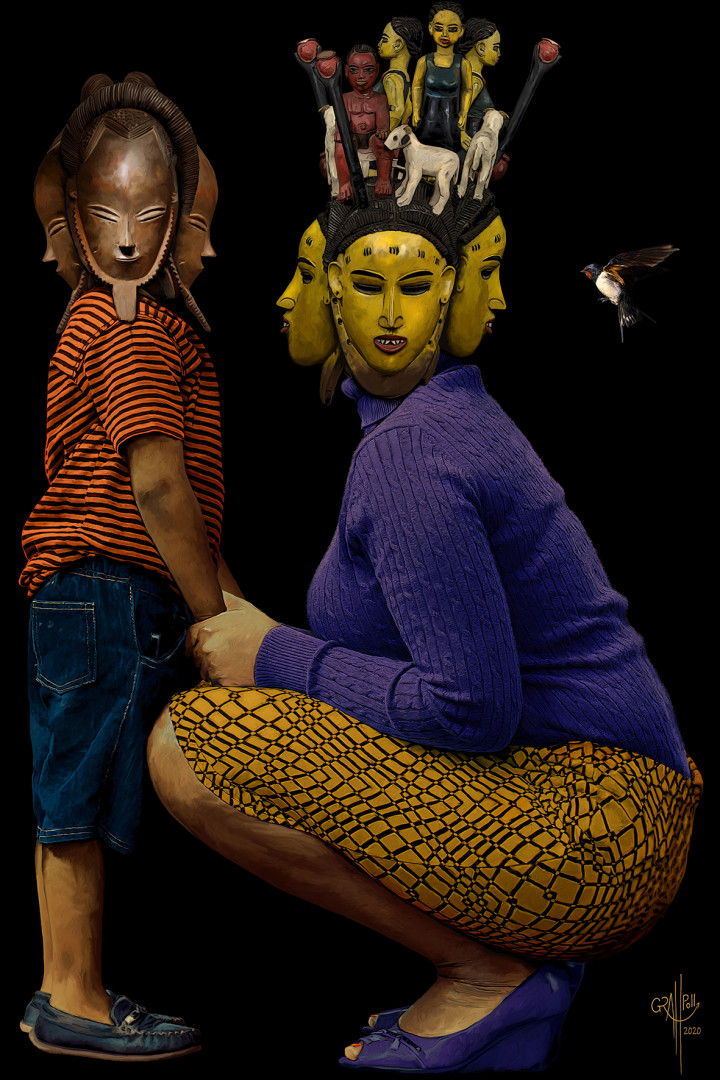 Madeleine Zaouli
Fine Art pigment print on Fine art paper
90x60 cm
2021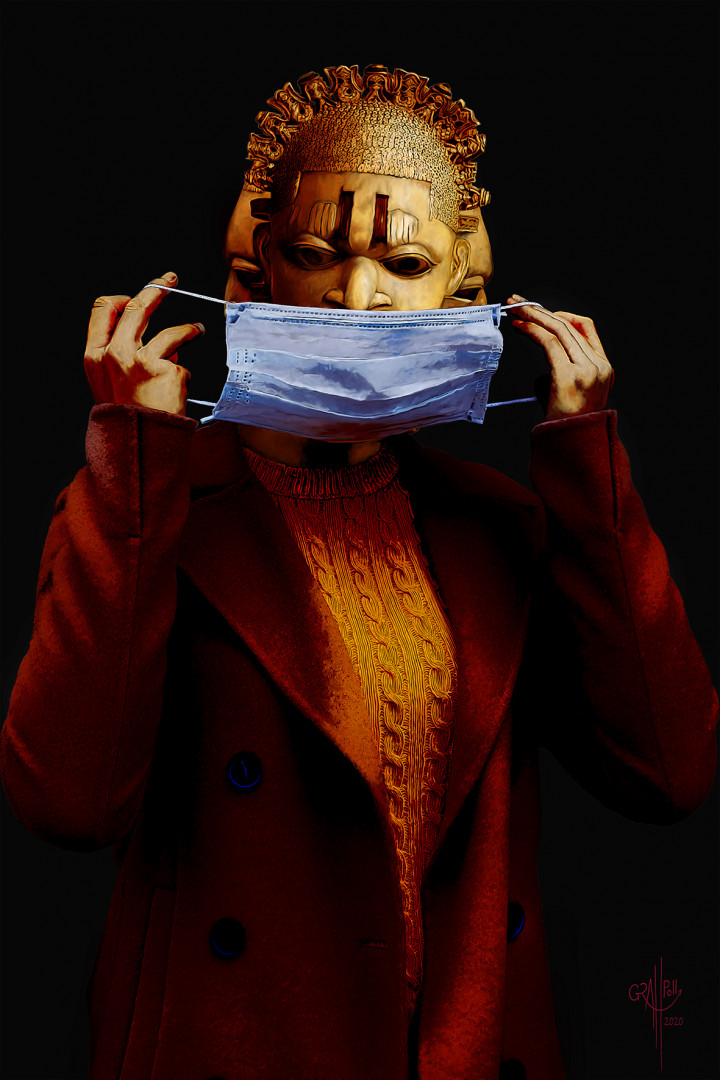 Marie-Reine Iyoba
Fine Art pigment print on Fine art paper
90x60 cm
2021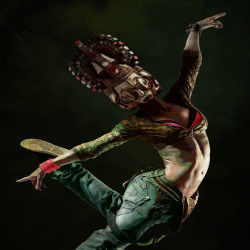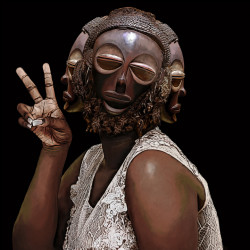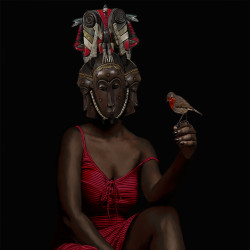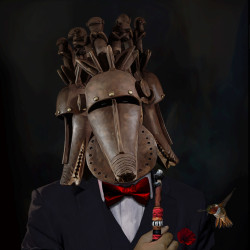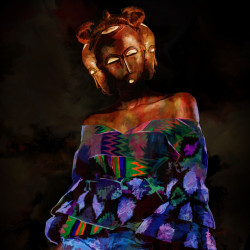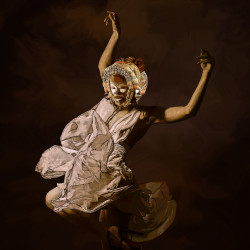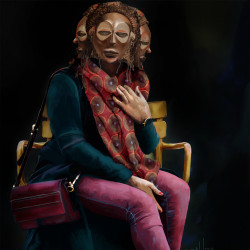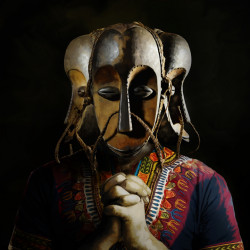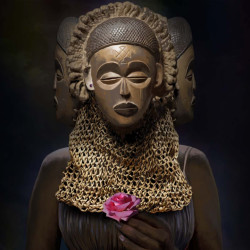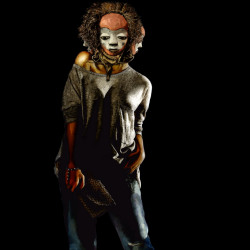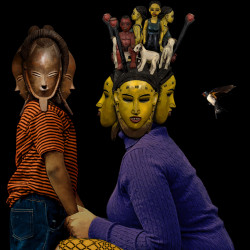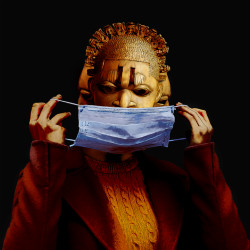 Biography
Born in Divo in 1974 (Ivory Coast), GrahPoll is a Franco-Ivorian plastic artist who lives and
has been working in France for twenty years, where he works as a professor in
artistic education. He comes from the National School of Fine Arts of Abidjan (Côte
d'Ivoire) and the National School of Art of Limoges Aubusson (France).
Grahpoll's work spans over twenty years with great
diversity.
His time at the Ivorian School of Fine Arts led him initially to
share all the enthusiasm of the former inventors of "Vohou-Vohou". The term Vohou Vohou,
which means "assembly of anything", is presented as an art of
recovery, assembly and gluing on frames of heterogeneous materials:
string, tapas (beaten bark), cowries, rattan, sand, plaster, cardboard, glue, feathers, bones
of fish. Grahpoll was initially known for his relief paintings. Influences
traditional and academic mark his achievements, the originality of which lies for a
good part in the choice of supports. The use of wood, rope, canvas, objects of
recovery of all kinds, metal reinforcements coated with industrial fibers and
vegetable. All these elements carefully selected and agglomerated in a coating
thick give his first productions a very original character.
Today, he continues his reflection on contemporary painting through the use of
the digital tool and explores the idea of ​​a new pictoriality through tools and
of non-pictorial materials. This artistic practice, anchored in its time,
supports technological development while renewing the nature of languages
artistic and their mode of production. An approach that challenges the relationship that
the artist talks with images and their means of production.
Legacies and social relationships leave a deep mark in the existence of everything
individual and forever mark their sense of identity. Like his contemporaries,
Grahpoll is open to the world, he knows he is at the crossroads of several cultures, he knows
therefore identity and self-image are constantly being constructed and assaulted
by various influences.
The series "The stars hatch in the cracks of the masks" questions the reports
societal, the significance of identities, sometimes repressed and their persistence in the relationship
to the other, to an interconnected global society. It is a fiction related to the
question of identity, a creative bias in dialogue with the real and the marvelous. He
offers avatars, contemporary, hybrid and mythological characters, a desire
of incarnation in resonance with the philosophy of "Sankofa" and the triple connection between
the past, present and future.
Grahpoll's plastic intention is to play with the reception of images by
spectators, the codes and the relationship that these characters have with our own
representations.
Everything that has seduced us at Grahpoll for several years now invites us to follow him
carefully in his new attempts.
Exhibitions
EXHIBITIONS
2017-2018-2019
Abidjan International Arts and Digital Encounters - The Institut français de Côte
d'Ivoire (IFCI)
2016
One hundred percent Dadié - Galerie Lebasquiat - Abidjan Ivory Coast
2010 - 2009
The extraordinary garden - Perrusson
2006
Lussac les Chateaux April-May - Africa Instinct
Célestin Koffi-Yao and Grah Poll - Abidjan Ivory Coast
2005
the colors of time
2004
Galerie L'Appart - Saint Benoît La serrurerie - Poitiers The new rendezvous - Niort Le
roof world - Poitiers Galerie mana art - Vendôme
2003
Aset Gallery - Poitiers
Credit Agricole Touffenet - Poitiers
Campsite 2003 / ENSA- Limoges
2002
Chapel of Gaillards - Poitiers
2001
Raoul Royer Museum in Ménigoute
Moulin d'Anguitard - Chasseneuil du Poitou
2000
Poitiers Paperweight
Commandery of Saint Marc la Lande
Terra Villa -Ouzilly-Vignoles (Heritage Interpretation Center of the Marais de la Dive)
Grassin Gallery - Poitiers
1999
Marie-Stuart Gallery Paris 2nd
University of Paris Créteil
Angoulême Comic Strip Festival: Partnership for the international festival of
comics in CÔTE D'IVOIRE
1997
FESCUAO Expo - OUAGADOUGOU (Burkina Fasso)
Exhibition for the city of Abidjan (Ivory Coast)