Artworks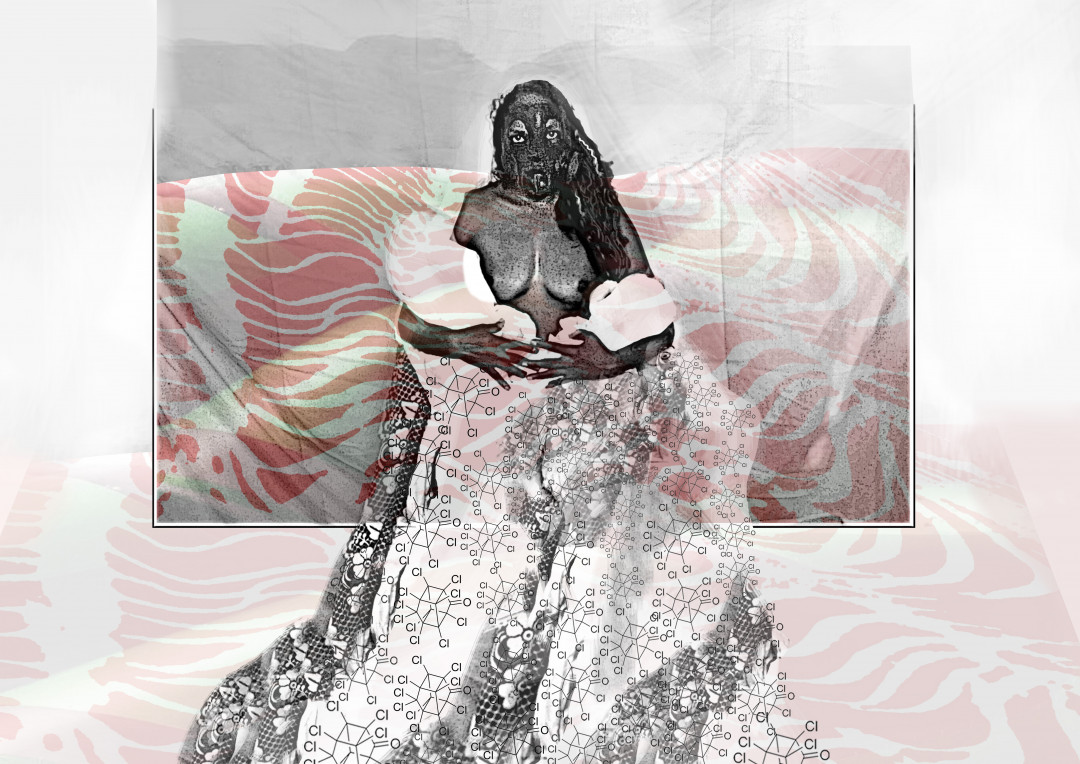 Chlordeconia
2018, mixed technique, transfer on canvas, 100 X 100 cm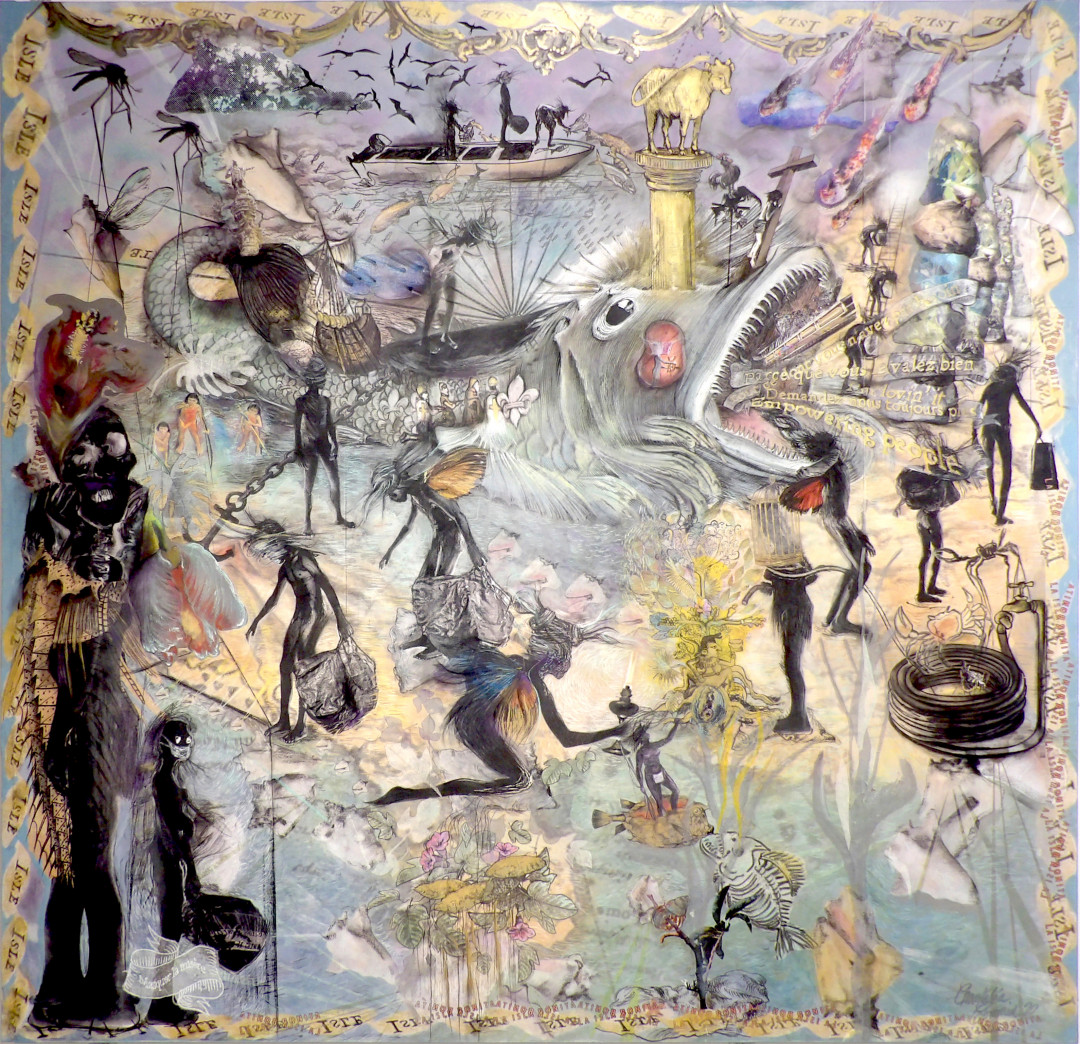 "Babel",les grands poissons mangent les petits
2021
Drawing, transfer, collage on canvas,
200 X 200 cm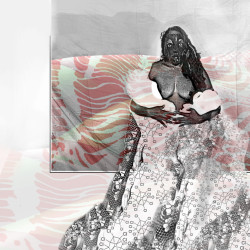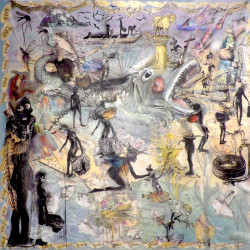 Biography
Born in Guadeloupe in 1971, Chantaléa Commin pursued studies in Aesthetics, literature and experimental cinema at Paris I-Sorbonne. Works in national education and publishing in Paris, collaborates in artistic events since 1993 in Bagneux, a writing and filming residency in Casamance in 2005 ... Returned to Guadeloupe, Art is her full time job with the rôle of mother, she lives by and for the visual arts. In recent years, she has exhibited in collective and solo settings.
Digging into intimate as well as collective experiences, in local or universal humus, (The process of memorizing memories being universally understood), Chantaléa Commin portrays not the past but what He has engendered. Through drawings, installations and videos, an experimental and protean practice that discovers a disenchanted world but rich in its many, in mutations but not without real foundations, plagued by the reign of profitability, where art, finally, sets itself up as a lookout!
The vertical lines, drips, organic peaks, very characteristic in his work, like a computer bug, stigmatize displeasure and its corollary, in a graphic way. Erectile positioning in the face of social stimuli, environmental alarms, such as the nails of revolt among the punks that the artist encountered in his underground period. Nevertheless, these "spines" are more or less soft textures, more or less "painted or fictitious" like the various policies more or less complacent with what they denounce. "Nothing is what it appears to be! "
Since 1993, she has exhibited collectively or individually, for example Art dans la ville, Expo Collective, Bagneux, France, 1993 // Cinematographic residency at the Kadioute-Boucotte Museum, Casamance, Senegal, 2005 // Mutations, Solo Exhibition, Yvon Leborgne media library,
Port-Louis, Guadeloupe, 2019 and at the Clément foundation with Numéris Clausus in 2021. At the Mémorial Acte museum in Guadeloupe in 2021 with the PAG. His work was presented in December 2021 at the French Embassy in Tokyo in a collective work with Japanese artists.
Her work interests the "Revue en Esthétique du Cereap" by Dominique Berthet with some publications and also appears in Stéphanie Melyon Reinette's book "Memorializing and Decolonizing Practices on Francophone Caribbean and other Spaces" Cambridge Scholars Publishing, UK
Exhibitions
Collective exhibition, artists fair, Montrouge media library, Paris, France, 1993
« Art dans la ville », Collective exhibition Bagneux, Ile de France, 1996
Kadioute / Boucotte, Residence and film project, Casamance, Senegal,West Africa, 2005
« Touzarzimut », happening "Constat amiable" Destreland, Guadeloupe, 2013
Drawings and installation Pool Art Fair Martinique, Hôtel Impératrice, Fort de France, Martinique, 2017
« A corps perdus, esthetic du corps décati », Drawings and installation, Gallery T&T Jarry, Dec 28, 2017
« The Black Mona Lisa » at the Museum of Fine Arts of Saint-François, Guadeloupe Dec 2017
« My body, my land, my territory », "Phuomaï Territori ", Pavillon de la ville, Cri de femmes, Guadeloupe,2018
« Saute » Experimental film Exhibition drawings from the film. "Alliance of cinema and plastic arts", Galerie les Sept Parnassiens, Week of Caribbean and Overseas Cinema, Paris, 2018
Collective exhibition, Art et Rum Festival, exhibition and screening of the short film " Saute " Arawak, 2019
« Afro imaginary in Caribbean art » Malcom Little, ILYASAH SHABAZZ, Guadeloupe, 2019
« Expo Solo » TANSYON "Café des Arts, Guadeloupe, 2019
« MA (sca) RRONS » short screened at the MIFTC International Caribbean Film and Television Market, 2019
Broadcast on FranceÔ, France televisions, in "Ô et courts" by Elisabeth Tchoungui, 2019
« Mutations "Expo Solo Médiathèque Yvon Leborgne, Port-Louis, 2019
« Amazing Grace » Cri de femmes, Collective exhibition, Médiathèque de Port-Louis, March 2020
« Strates », Collective exhibition Arawak, Gosier, April 2020
« BWOA Collective exhibition L'art s'en mêle, Gosier, 2021
« Clit revolution, Black macho and potomitan », Festival Grito de mujer, Jessica Laguerre , Arawak, 2021
« Numéris Clausus » Collective exhibition, Fondation Clément, Martinique, 2021
« Le déplaisir » curator : Dominique Berthet, collective exhibition, Arawak, 2021
« French Season in Japan », travail du kimono avec des artistes japonais, Ambassade de France à Tokyo, 2021
« PAG » exposition de trois installations, Prix Maison de l' Architecture Guadeloupe, Mémorial Acte, 2021